IT'S TIME!  12:00AM August 4, 2008.  Although I figured very few people will be reading this when it is posted, I wanted to make sure it got out in my subscriber e-mails which go out in the middle of the night.  It's time to start talking OPENLY about SolidWorks 2009.  The purpose of this post is to give a quick overview of some of the major enhancements.  I won't get into much detail in this post on any of the enhancements.  Details will follow in separate posts and I'll TRY to keep them coming.  I will however include a few images along the way in this post.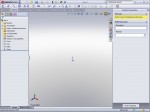 The first enhancement I'm going to talk about is one of my favorites.  I love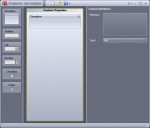 things that make engineering processes more efficient and this one definitely does that.  A new tab has been added to the Task Pane that allows users to enter Custom Properties!  How and what information is entered is completely customizable.  The content for this Task Pane tab is created using the Property Tab Builder which is a new tool that is provided as part of your SolidWorks 2009 installation.  I'll have a detailed article on this with some examples later.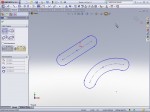 Something that was shown at SolidWorks World earlier this year is a Slot Sketch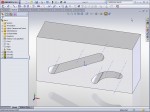 Tool.  This is a REALLY handy tool that allows you to create both straight line and arc based slot features quickly.  One of the really nice things about this tool is that when you create features from it, a centerline temporary axis is automatically added!  This of course will help in mating fasteners to the slot!  Other notable sketch enhancements include the ability to reverse directions on sketch dimensions.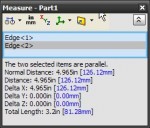 The measure tool will now display dual dimensions!  This is one of those really simple enhancements that probably didn't take very long to program but will receive high praise from users.  The thing I like the most about this is I no longer have to constantly switch the Measurement options when dealing with an assembly that was designed with parts in both inches AND millimeters.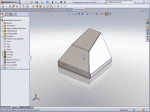 You can now create Sheet Metal Parts off of existing solid bodies!  The Convert to Sheetmetal command allows you to create very complex sheetmetal shapes from a Solid Body.  The UI for the feature allows you to select the faces of the solid body that you want to use for the sheet metal part.  The cool thing is you do not have to use all the faces!  Other notable Sheet Metal enhancements include the ability to add a Cross Break to a planar face and Chamfered/Beveled edges on sheet metal parts.  Click on the image to the left to see an animated GIF file.
The Boundary feature has now been expanded to include solid boss/base and cut features.  The feature works almost EXACTLY as it did in the Boundary Surface feature in previous releases.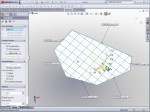 The Freeform feature has seen some significant enhancements.  There are no NO LIMITS on the number of sides of a surface/face patch used for this feature.  Previous versions limited the use of this feature to four sided patches only.  Also new is the ability to change the angle of the U-V mesh which controls how curves and points are applied.  I am very excited about this one and will be putting some time aside in the coming weeks for a full article with lots of examples.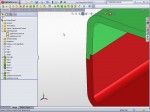 Plastics designers will love the the new Lip/Groove Feature!  This feature automates the task of creating interlocking edges between plastic parts that snap or bolt together.  I am one that will be using this feature quite often.  My testing in the later Beta versions has fared very well.  Stay tuned for more on this feature.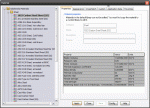 Appearances are getting some updates in this release as well.  Color/Optics and Textures are being replaced by Appearances.  This is a GREAT thing and eliminates most of the procedural recommendations required for SolidWorks 2008 that I outlined a few weeks ago.  The Materials database has gotten a complete overhaul.  The user interface and database itself are now TRULY unified for SolidWorks and SolidWorks Simulation (There have been some product name changes.  Check out this article at Mike Puckett's Blog for details.)  The Materials interface now opens in a separate window instead of in the PropertyManager.  The default Materials are read only but you can create custom Materials whose properties can be changed.
Instant3D has been enhanced by including it in many more areas of the software.  The biggest is probably support for Instant3D in assemblies.  There are also changes in the options available for using Instant3D on sketch based features.  Instant3D has also been made available to Weldments.  Live section has seen some enhancements that in my mind drastically improve its ease of use.
There are several enhancements to features and functions based on Derived Parts.  The Split command now has the ability to reattach existing child parts when split features change.  You can now also carry over sketch and feature dimensions in Mirror Parts and Derived Parts.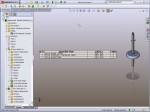 Assemblies have seen SEVERAL enhancements.  One of the most notable is the ability to create Bills of Materials (BOM) in an Assembly file.  All the capabilities that you have in Drawing BOMs are also there in Assembly BOMs.  When you create a drawing you have the choice to use the Assembly BOM in the Drawing.  Large Assemblies received some enhancements.  Naturally, most of the enhancements in this area are based on improving performance.  Some of the many areas with improved performance include adding mates and components as well as working with Drawings of extremely large assemblies.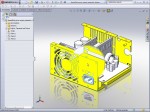 SpeedPak is another feature that is sure to be a hit with folks working with Large Assemblies.  There is a lot to this feature so I will save many of the details for a later post.  With Speedpak you can create a simplified assembly configuration that only fully loads the faces or bodies that you want it to.  You can do several tasks with SpeedPak assemblies which include mating selected faces/bodies in upper level assemblies as well as generating BOMs and Balloons on Drawings.  One last Assembly enhancement worth mentioning is the ability to propagate assembly features down into parts.  This one will be nice!  You even have the choice of keeping the definition of the feature at the assembly level while also propagating it down to the part.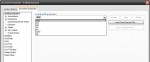 Drawings for SolidWorks 2009 introduce Drafting Standards which is a MUCH better way of organizing all of your Drawing setting/standards.  Another enhancement that is very interesting is the ability to restructure Bills of Materials.  You can do this WITHOUT affecting the assembly structure.  Title Block Management has also been introduced to speed up the process of filling out title block data in Drawing Sheet Formats.
Well, that about summarizes it.  Have I covered every enhancement?  Heavens NO.  This first day I wanted to get your appetite wet. 🙂  Tomorrow I will have another post that will get into some of the details.  Feel free to leave Comments and Questions if you like.
Stay tuned….more to come tomorrow!