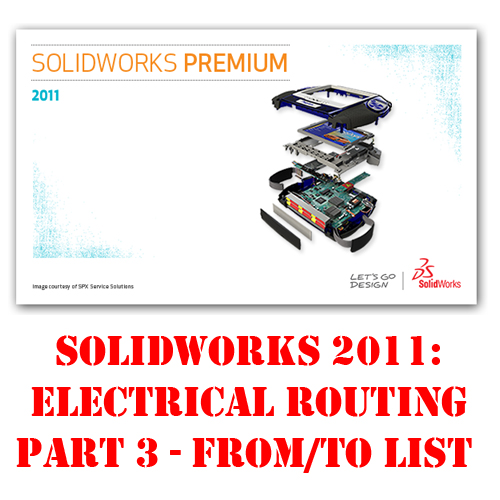 Almost two years ago I posted two videos to the site detailing the use of SolidWorks Electrical Routing.  I had full intentions of producing a Part 3 but life as it does sometimes had other plans for me.  Finally after several friendly reminders from readers via e-mail and comments on the site, I have released Part 3.  Sorry it took so long…but I tried to pack it full of content to make it worth the wait.  🙂
Part 3 introduces the use of From/To Lists.  While they do require a little setup…From/To Lists can drastically reduce the time it takes to model electrical cables in SolidWorks.
I was already talking a bit about bandwidth in the first two videos…so this one is going on YouTube.  My apologies if it is blocked for you at work, but the bandwidth was getting a little expensive.  🙂  One REALLY nice thing is that YouTube recently lifted the 15 minute video length restriction.  This video goes over that slightly (18 minutes) so that enhancement kept me from having to break it up into two parts.  The video is shown below.  If you go to the YouTube page you can watch it in HD.
I hope you enjoy it.  It was nice to dive into the details of Routing again….hopefully I'll find some time to do some more videos again soon.
Stay tuned…more to come!