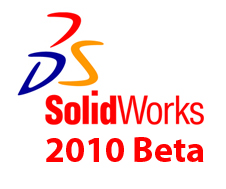 Spring is just around the corner (or already here for some) and usually that means it's Beta Testing Time for many SolidWorks users.  A few days ago I contacted SolidWorks to see if I could get some details on the SolidWorks 2010 Beta Contest and they were gracious enough to provide some information that I can share with you.  The Beta program will be happening a little later this year as compared to past years.
There are three Beta releases of SolidWorks 2010 currently scheduled.  The tentative schedule is as follows:
SolidWorks 2010 Beta 1:  06/08/09 – 07/03/09
SolidWorks 2010 Beta 2:  07/06/09 – 07/24/09
SolidWorks 2010 Beta 3:  07/27/09 – 08/14/09
As with previous Beta programs, SolidWorks is looking for customers that span many industry sectors which include:
Machine Design
Consumer Product Design
Sheet Metal Design
Routed Systems
Remember that you DO NOT need to be an "expert" user to participate!  Feedback is always welcome from ALL users.  If you want to read about some of the enhancements to SolidWorks 2010 that have already been made public, click HERE.
The priorities of the SolidWorks 2010 Beta Program are:
To Find/Fix customer critical stability/performance/UI bugs not found internally or incorrectly prioritized
Increase bandwith of testing permutations that cannot practically be covered internally
If you want a sneak peek of the new features coming in SolidWorks 2010 this is a GREAT opportunity to test drive the software and provide feedback which can at times be implemented prior to the release of SolidWorks 2010.  Many discussions during last year's Beta Program directly led to changes in some of the new features of SolidWorks 2009.
No details of the contest prizes or point system have been released yet.  As soon as that information is made available, I'll post it.
I can't confirm for certain, but I believe the SolidWorks 2010 Beta Program will be managed through the Customer Portal just as it was last year.  To be eligible for the Beta program last year, you had to be on an active subscription contract.  I have not heard whether or not that will be a requirement for this year's program, but I suspect it will.  To sign up for the Beta Program log into your Customer Portal Account and look for the "My Profile" icon as shown below.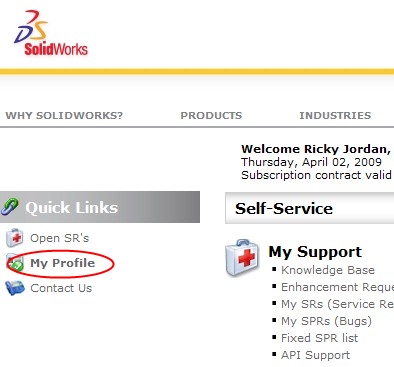 On your Profile Page set the option for "Notify me for Beta Programs".

I'm sure more details will be released as we inch closer to the first Beta period.  As with past programs, a special forum will be available for users to discuss the new features while still under the NDA (Non Disclosure Agreement).
Stay tuned….more to come!