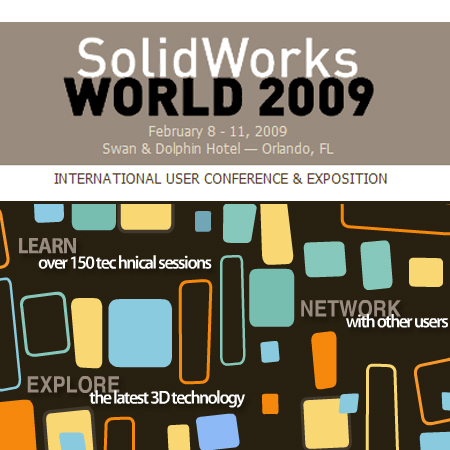 Ok…I still need to type up my COMPLETE post of Wednesday's General Session.  LOTS of cool things were shown…but for the folks wondering about SolidWorks 2010, here is a quick list of what was shown:
New Display Box for View Mates with Separater Bar.  Lots of new functionality with this new display box!
Mirror Components – You can choose from different options for component positions.  All the mirrored components appear under a Mirror Components feature.  Components are fully defined…no additional Mates necessary!
Simulation – Solution Optimization options that will allow you to resize the model based on properties defined.  Example would be setting a specific volume…then let SolidWorks find the optimal model parameters!  It looked like you could set several parameters for optimizations.
Multi-Bodies allowed in Sheet Metal parts!  You can also mix Sheet Metal and Weldment features with no issues!  Also better DXF output options for sheet metal flat patterns.
New Reference Plane options!  The interface for Plane creation looks similar to the 3D Sketch Plane creation process.  New options include Midplanes and Tangency to two faces and Tangent to face plus parallal (or angled) to another Plane.  The Plane creation options appear as you select entities.
Assembly Visualization – Sort assembly components by custom properties and other parameters.  Many options with this and you can use it to control the model visibility.  Model color displays can be used in this and can be based on ranges.  You can output the component lists to Excel!  You can modify custom properties in this interface as well.  (This might be my favorite feature shown!)
Configuration Builder – You can build a form with something that looks like the Property Tab Builder and then use this form to easily create configurations.  You can set it up any way you want with Yes/No answers and custom fields.  VERY COOL!  Allows you to configure on the fly too!
Drawing Annotations – GTol, Surface Finish, and Datums can be attached ANYWHERE to dimension extension lines.  You can combine notes with a simple drag and drop!  This looked REALLY nice!  Perhaps this will allow you to store custom notes individually in the Design Library then add them one by one?
Drawing Balloons – User input Balloon size (using a number).  Youc an also automatically show the Quantity beside the Balloon just by clicking turning on the option!
Drawing Dimensions – New heads up display that allows you to modify the dimension, tolerance, and other day all in one window without having to step through the PropertyManager.  Also – When you add dimensions to a drawing, other dimensions will now automatically shift outward or inward keeping the proper spacing!
Drawing Center Marks – You can add Center Marks AFTER dimensions are created and the dimension extension lines will automatically trim to the Center Mark!
Drawing Tables – Excel table functionality through all SolidWorks tables!
Heres a BIG ONE – Direct Editing – Enhanced Move Face tools that allow you to move imported features on the fly all from the Graphics area.  There was also a new direct editing tool that allowed you to modify patterns of holes in an imported part all at once!  The UI looks to be using the Instant3D rulers.  The direct editing tools did create features in the tree which will allow users to easily revert back to the original imported state.
Enterprise PDM – Replicate Toolbox data across mulitple vaults! – Converting Data and Print Jobs can now be managed on a server.
Full Machine Simulation that is integrated with National Instruments LabView!
Well…that is the quick list.  I'll go back through this and see if I can elaborate more on some of the features when I write the General Session Post.
SolidWorks World 2010 will be held in the Anahiem Convention Center in California.  The dates are January 31st thru February 3rd, 2010.
That's all for now….Stay tuned…more to come!!