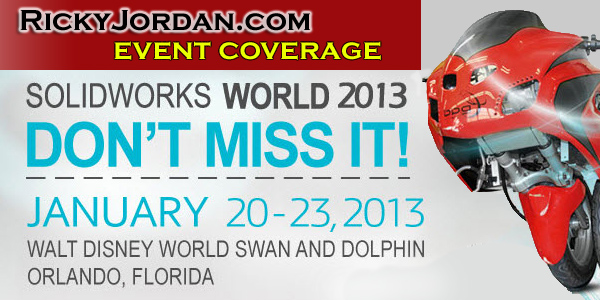 It's hard to believe that that time is upon us again, but SolidWorks World 2013 is set to begin in just two days!  SolidWorks users from across the world will gather in Orlando, Florida at the Swan and Dolphin Hotel and Convention Center.  This will be 15th year of the event.  Ten years ago, I attended my FIRST SolidWorks World at SolidWorks World 2003 in strangely enough…Orlando.  🙂  At that time, the event was held at the Coronado Springs Resort.  (SolidWorks World seemed to outgrow that venue soon after.)
There are a number of topics and questions going into this year's event.  I've listed a few of mine below:
Will SolidWorks continue the momentum of the 2013 Release, which has been rated by many as the best release in the last five years?
Will we see ANYTHING about the next generation (V6) line of products?  A Concept Modeler was mentioned at the Press Event last year and was scheduled (at that time) for a release of May 2013.
Who will the guest speakers be?
Will the attendance record be broken again?
Which Partner Product will be the "buzz" of the Partner Pavilion?
Stay tuned…..more to come!