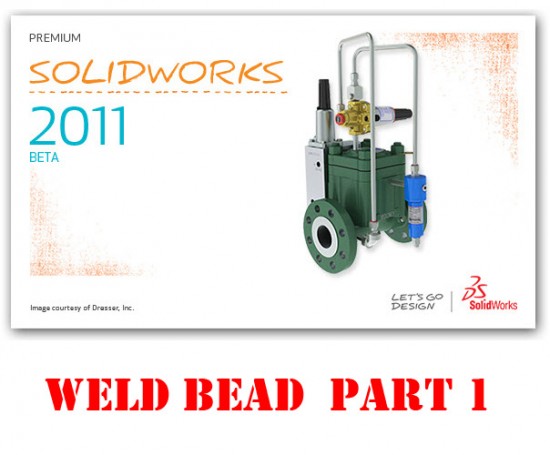 So why would one "new" feature necessitate having a Part 1 and Part 2?  Its mainly due to the many different ways the feature can be applied.  SolidWorks 2011 introduces a new "Weld Bead" feature.  While you'll find just a few similarities between the PropertyManager options of the old "Fillet Bead" and the new "Weld Bead", these two features are QUITE different.  Lets identify some key points of the new Weld Bead feature:
Weld Bead is a "lightweight" feature that is primarily shown in the modeling environment.
No Solid Bodies are created as part of the Weld Bead feature.
Weld Beads CAN BE USED IN PARTS AND ASSEMBLIES! (And functions the same in both.)
More complex Weld Beads are possible when compared to the Fillet Bead
Weld Annotation automatically generated and are modifiable.
Quick selection tool included for rapid selection
The strategy in which SolidWorks has gone about in developing this feature is somewhat different than other CAD Vendors.  The Weld Bead command is a lightweight feature that does not create an actual solid body in the Part or Assembly files.  Here's a screenshot of what the feature interface looks like.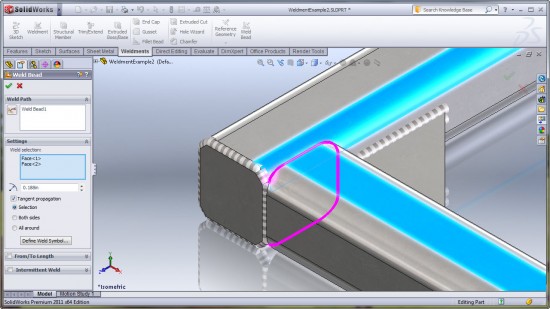 What you see is a graphical representation only. In addition to that, the graphical representation which is the bead, is NOT trimmed to fit the surfaces around the selection area. This is the big performance saver. On large weldments where you want to show all of your beads, it can take quite some time for the software to run calculations on all the weld beads. Another advantage of the Weld Bead is that since it is not trimming surfaces, the bead can be applied to a much larger range of face selection combinations.  You also have a useful but slightly simplistic way of calculating the mass, cost, & number of passes through the use of the Weld Bead Properties dialog box, which is shown below.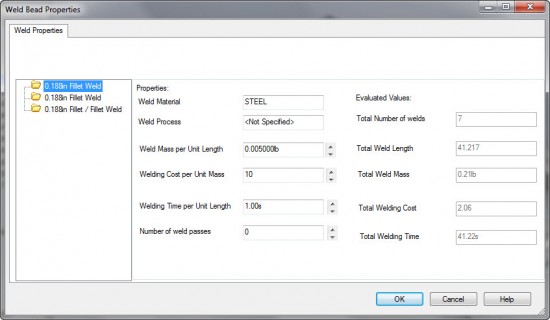 Here's an example of a finished part with all weld annotated with the Weld Bead command.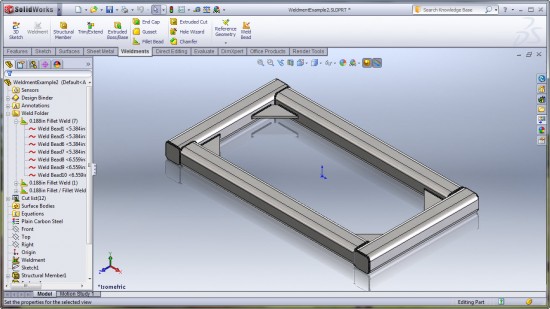 Overall, I like the direction that SolidWorks has gone with this tool. SolidWorks has a reputation in industry for handling Large Assemblies very well, and this feature's design approach fits right along with that.  With that said, I would like to see some things added to it in the next release.  We'll cover more of that in Part 2 of the review.
I have made a video showing off this functionality.  (WARNING…It is quite long.)
Because of bandwidth issues, I will no longer be hosting videos on my site like I have done in the past.  Videos will be offered in two ways.  You can view videos via my YouTube Channel, or I will make the MP4 file available for view or download at archive.org  I realize that some of you are probably behind a corporate firewall and can't see YouTube, so that is why I'm providing the download via archive.org.  Below is the embedded YouTube link.  (The video can be viewed in HD.)  Right below that you'll find the link to view or download the file.  Please let me know if you have any issues seeing the video or downloading it from archive.org as this is the first time I have used this service.
If your corporate firewall has blocked YouTube, you can view or download the video at archive.org HERE.  (Note:  You may need the TSCC codec to view the MP4 file.)
Stay tuned…more to come!