Yes…you read the title correctly.  For those of you who just fell out of your chair after seeing me mention another CAD system on this site, welcome back!  I work on a wide variety of projects and interface with a wide variety of CAD systems.  I am a CAD Junkie, so yes, I do dabble with other CAD systems from time to time.  (Can you guess which one is my favorite though?)
In a recent project we have been tasked to import some files from Pro/ENGINEER into SolidWorks.  To complicate things a bit, some of the Pro/E files are still undergoing some "minor" changes.  How do you deal with situations like this?  Well, I'm happy to say that you CAN effectively UPDATE imported models and if the changes are minor and you use a consistent process in how you import your data, the assembly mates and sketch relations you have built to the imported part will remain unharmed.  The video below shows it all.  You will see me show an Assembly in SolidWorks that has a imported model in it from Pro/E.  I'll then update the model in Pro/E and show how you can update your imported geometry in SolidWorks!  This is actually an old school trick that I first saw MANY years ago in a Rhino tutorial that talked about how to update Rhino surface data in SolidWorks.  So sit back and enjoy.  My microphone is still broken…so I had to use callouts in this one.  Hopefully the next video post will include voice again.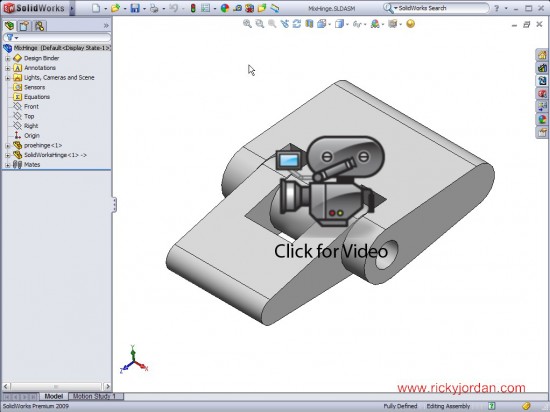 UPDATED 3-22-09: You can now download this video for local viewing HERE! You will need install the TSCC Codec to view the file.  This feature is new to the site and currently in testing.  Please drop a comment and let me know how it worked for you!
Stay tuned…more to come!