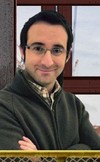 The surprise guest of SolidWorks World 2008 was revealed this morning and it was none other than Danny Forster of Discovery Channel's Build it Bigger TV show.  Danny discussed the aspects of Engineering & Design in the architecture industry.  He also outlined many different design features of the new Arizona Cardinals football stadium which features a retractable field.  Other topics discussed included the Shanghi Financial Center and the assembly line construction of homes in Mississippi that were both economical and strong enough for Hurricane Force winds.

I was lucky enough to catch up with Danny at the press conference after the session and get a picture with him.  Build it Bigger just happens to be one of the shows I watch quite often on the Discovery channel.  If you haven't had a chance to yet, check it out.
There is of course more to report from the general session.  This year's attendance was announced at just over 4500 total.  As I had reported yesterday from the press conferences, an high emphasis on performance and reliability are part of the development effort right now at SolidWorks.  Also mentioned for the first time was that there will be more participation from the engineers in the R&D departments of SolidWorks on the SolidWorks Discussion Forum.
3Dvia Composer was announced to the attendees.  This is the product formally named Seemage.  I will have more on that product later.
Several innovative products designed in SolidWorks were announced which included
Still River Systems – Proton Therapy
Big Belly Solar – Big Belly Trash Can
Revell – VEXsplorer – (RC Robot that comes with a seat of SolidWorks Student Edition!)
Well, that is all for now.  Stay tuned….more to come!