With every release of SolidWorks there are always a few features that automatically invoke the user to shout "FINALLY!" when they see it for the first time. These features are often very simple changes which can save the user time or features that may have been long overdue making it into the software.  I've identified two features in SolidWorks 2008 that to me fit in this category.


The first feature is the Center Rectangle command.  Simply put, this feature allows you to place a rectangle in a sketch based on its center point location.  SolidWorks automatically creates two diagonal centerlines within the rectangle.  I think this is probably a feature that just about every SolidWorks user will use!  I would say that I'll use this at least 70% of the time as opposed to the other Rectangle commands.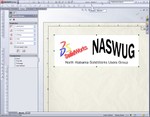 The second feature is the Insert->Picture command in SolidWorks Drawings.  Previously, you could only insert bitmap images directly into Drawings. (There was a trick I once used that allowed me to insert jpeg images if you installed a Microsoft image program bundled with Office 2000).  With this new command in SolidWorks 2008, you can now insert the following images types into Drawings: .bmp, .gif, .jpg, .jpeg, .tif, .wmf, .png, &. psd.  Essentially what SolidWorks has done is bring the Sketch Picture tool from Sketches into the Drawing package.  It behaves the same way as Sketch Picture except the exclusion of the new Autotrace functions that have been added in 2008.  You can even use the Sketch Picture Toolbar button to call this feature in a Drawing.  This is REALLY something that was overdue in my opinion, but appears to be worth the wait with all the file types, sizing, and transparency options!
If you have any other features in SolidWorks 2008 that you feel fall into this category, post a comment.
Stay tuned….more to come!