I've had plenty of work going on for the past several weeks which has unfortunately (or fortunately, depending on how you look at it) eaten into my Blog time.  Fear not as I am getting ready to post another hopefully useful SolidWorks Tip with a link to a demonstration video.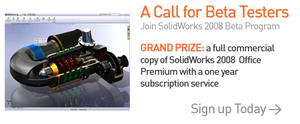 There are a few other things I wanted to mention.  SolidWorks Beta Testing has been going strong now for almost two weeks.  While I obviously can't speak publicly about it YET, there are several great new features being tested which are sure to enhance productivity for a majority of users.  There was quite a bit of information that was released about it at SolidWorks World, so you can get somewhat of an idea about SOME of the new stuff.  I encourage all of you to participate in the program.  There is a private discussion forum that is part of the beta website where you can discuss the new features with other beta testers.  I haven't gotten to test as much as I would like, but I've already logged over 12 hours testing.  Sign up today if you haven't already!  As I have hinted before, when SolidWorks 2008 goes public, make sure you tune in here!
There has been some other interesting news as of late in reference to the CAD industry.  Dassault Systemes (parent company of SolidWorks) has purchased ICEM, the maker of some of the most complete freeform "class A" surfacing tools on the market.  Matt Lombard has a very informative post on his Blog about this.
Stay tuned….more to come!