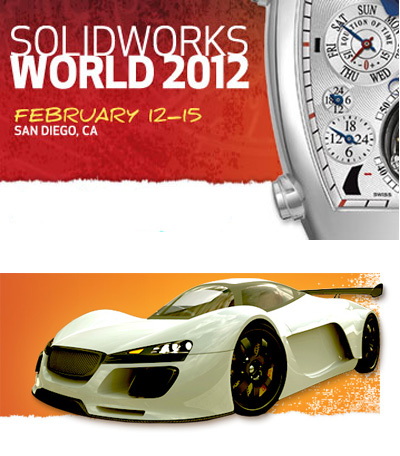 The ever-popular Wednesday General Session at SolidWorks World 2012 showed some new features coming in SolidWorks 2013 as well as highlighting some new technology from companies using SolidWorks.
First up were the Model Mania contest winners. As usual, Mark Schneider played a video showing how the part was built and then modified. The picture below shows both the reseller and customer winners. Congrats to all the winners.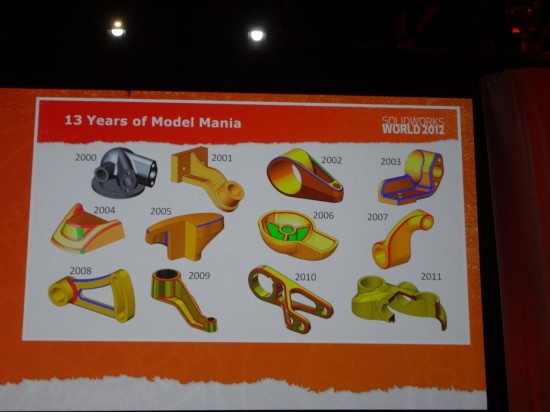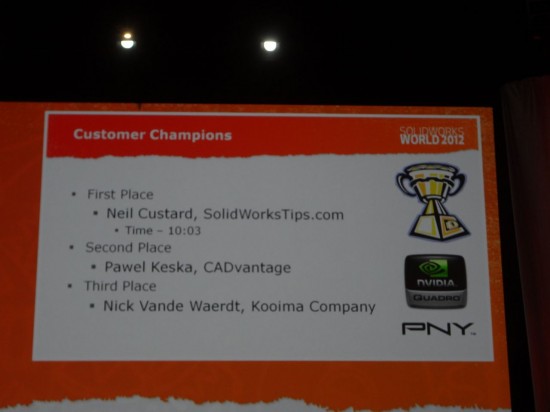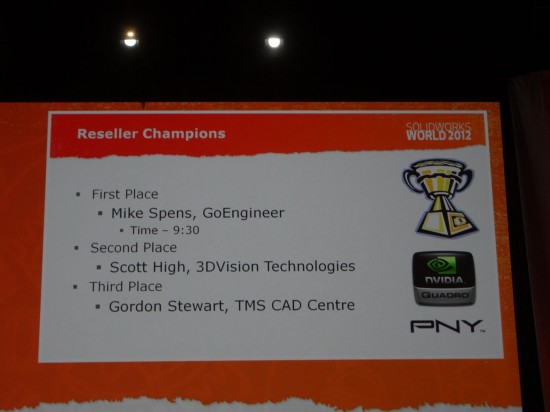 Next, the "Green Design Contest" winners were announced. Russell Donovan won the competition with his Bamboo Chair.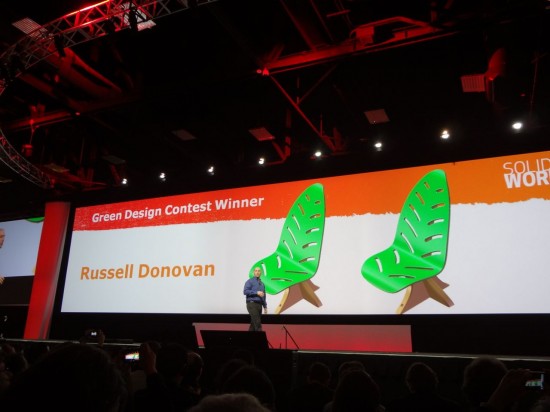 Marie Planchard was up next. She mentioned that over 2.5 million students use SolidWorks every day. (Quite a staggering number!) She introduced Bruno Maisonnier, founder and CEO of Aldebaran Robotics. They are the makers of the NAO robot that was featured in the opening video of all the General Sessions. NAO robots are being used in many applications across many industries. One in particular I found interesting was the effective use of these robots in working with autistic kids.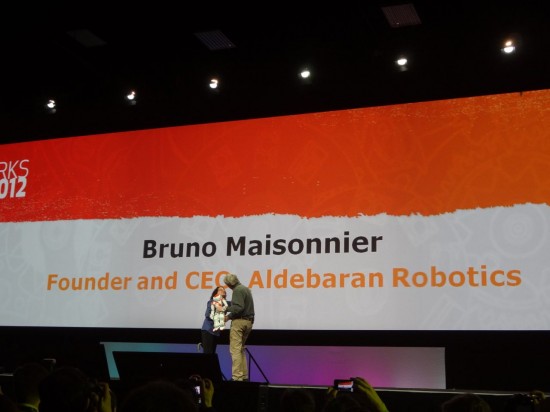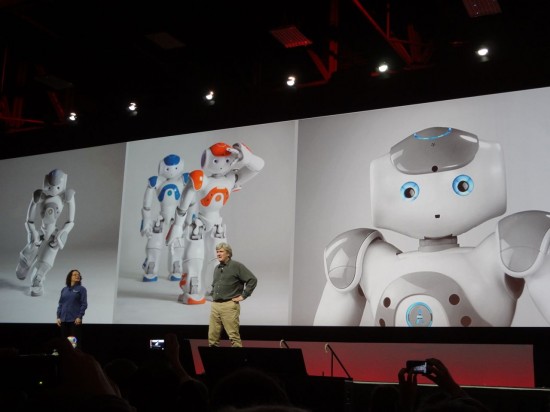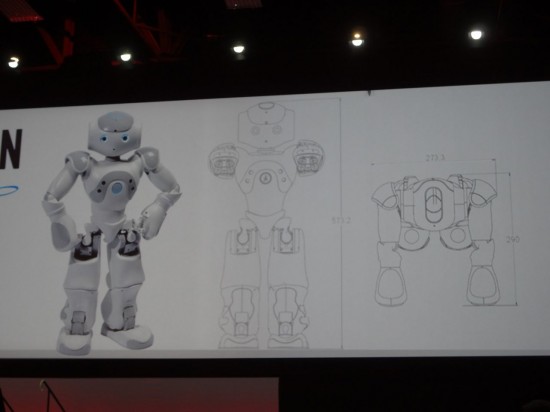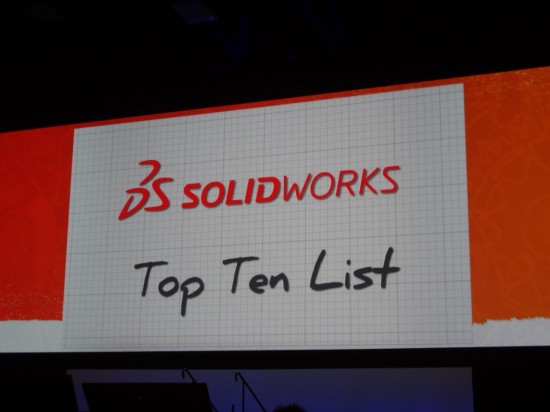 Next up was the SolidWorks World Top Ten Enhancement Request. These items were nominated and voted on as part of the SolidWorks Forums over the last few months. Here's the list:
10. Add a Thread Creation Wizard. (Ricky's Note: This would really come in handy for those building rapid prototypes that need REAL threads!)
9. Add "Lock Rotation" option to cylindrical mates.
8. Escape key should immediately return control of the interface!
7. Dimensions should stay where you place them.
6. Ability to control a plane's front and back side orientation.
5. Reduce the bounding box of Drawing Views to visible components only.
4. Address the shaded with edges bleed thru issue. (Ricky's Note: PLEASE PLEASE DO THIS for SolidWorks 2013!)
3. Don't delete your children, dangle them instead. (Ricky's Note: This is another one that would be nice sooner rather than later!)
2. Mass properties should include the option to automatically put a point at the center of gravity. (Ricky's Note: Guys – in the Aerospace world – We need this!)
1. Start using more CPU cores whenever possible.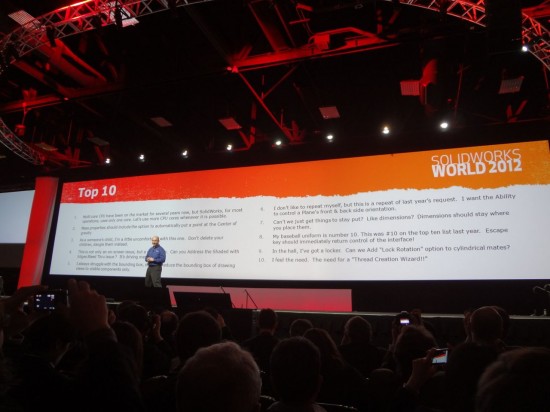 The SolidWorks 2013 Sneak Peek was up next.  I'll cover that in a separate post which you can find by clicking HERE.
Click HERE to see the entire Flickr Photo Set for the day.
SolidWorks World 2013 will be held in Orlando, Florida on January 20-23, 2013 at the Swan & Dolphin Hotel in the Walt Disney World Resort.  I have a feeling there might be a few vacations planned around that event.  🙂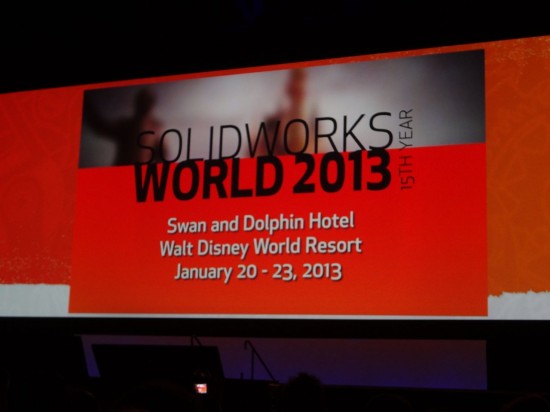 Stay tuned…more to come!