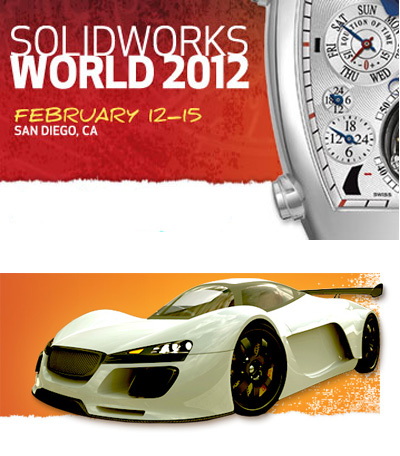 One of the things attendees of SolidWorks World always look forward to is the Wednesday General Session which is normally the day where we get a Sneak Peek of the next version of SolidWorks. Any hopes of seeing "SolidWorks V6" or the "new platform" were dashed on Monday as it was said that it will not be shown till next year. Nonetheless, the crowd was anxiously awaiting what is in the future of the current platform.
The features were shown with a "Back to the Feature" skit that mirrors the Back to the Future movies. It had many funny parts and was probably the biggest hit with folks like me who grew up in the 80's. Justin Burton and Ian Hogg starred as Marty and Doc. Jeremy Regnerus was hilarious as Biff and John Hirchtick also made an appearance in the video. The feature demos were shown with Marty and Doc live on stage.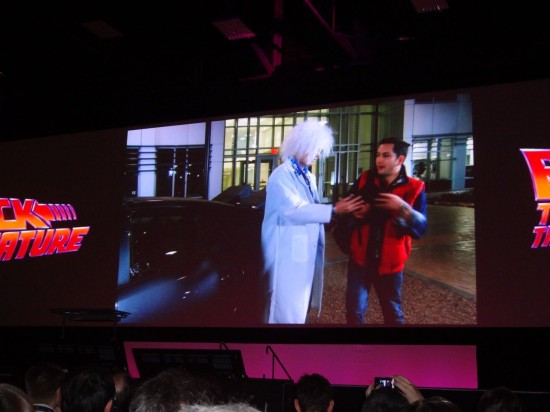 SolidWorks 2013 Features Shown:
Show/Hidden Bodies Feature added to Multi-Body Parts – This will be a welcome addition. It looks just like the current Show/Hidden Components command that is currently present in the Assembly environment.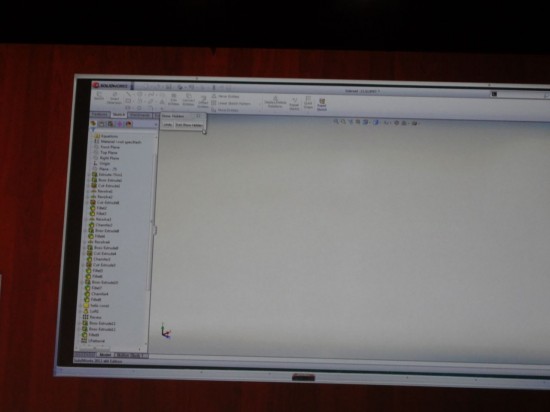 Assembly Visualization – Sort Parts by a new Graphics Performance property so you can find the components that are the most graphically intensive.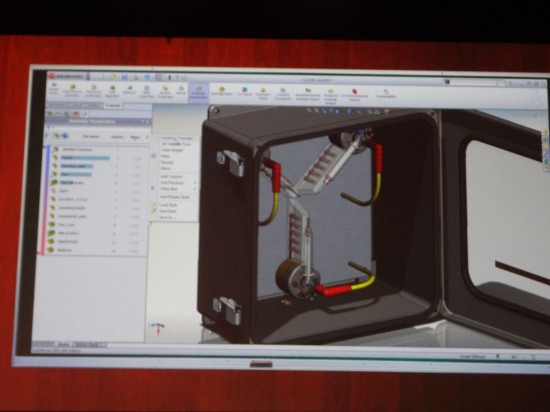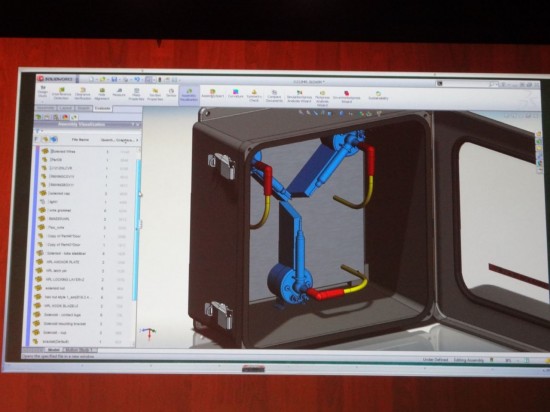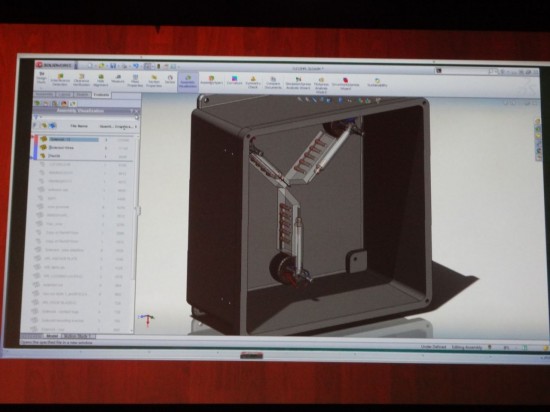 eDrawings Markup import into SolidWorks Drawings – Not much detail here on how to get them in. I would imagine it would be either through reading in the eDrawing file (import) or opening the Drawing file itself in eDrawings, making the markups, then save the file. I'm really curious to see how this might be integrated into EPDM.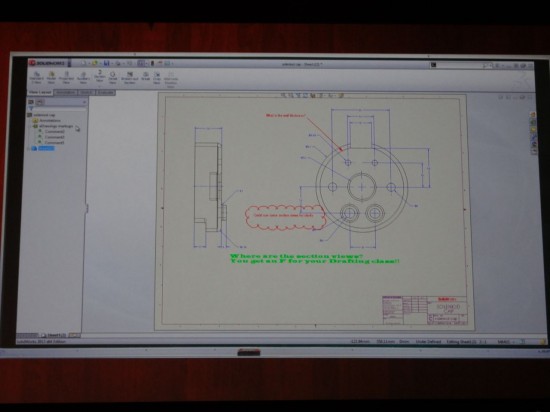 SectionXpert – This tool looks REALLY cool. As soon as you enter into the section tool a horizontal or vertical line appear. (Tab apparently will toggle orientation.) You can then offsets or other additional geometry to the section lines without having to create a sketch!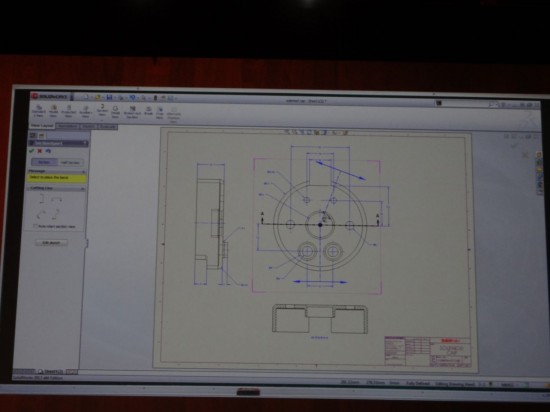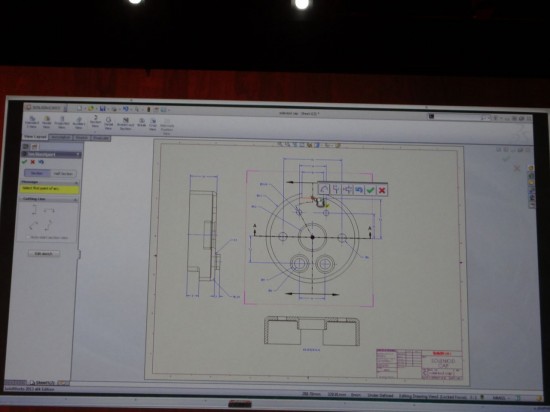 Revision Cloud – This tool allows you to put revision cloud graphics around items that changed during a revision. There was NO detail given about when/how it is viewed. I would imagine it would be turned off by default for printing and when the drawings is first called up… but that is purely a guess/hope on my part. This could be a handy one if it is properly used.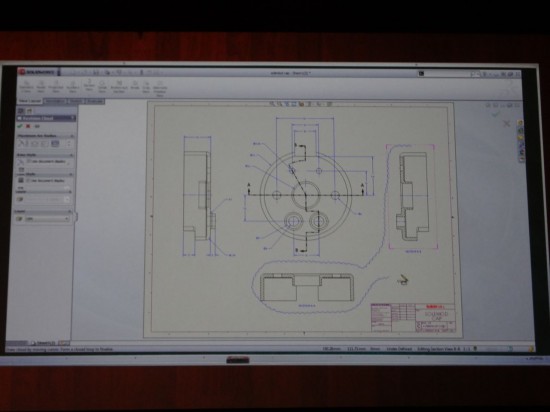 Snapshots in any Document – Adjust screen view and what is displayed in the view. They also showed a redesigned View Orientation panel. I don't think this window has changed in 10 years. As many pictures as I took…I wasn't able to get a snapshot of the new window. I'll try to find someone who got it.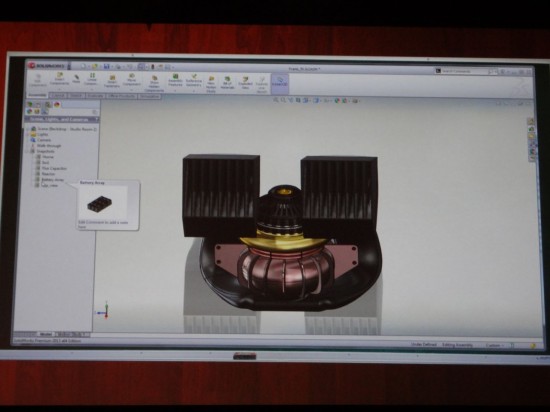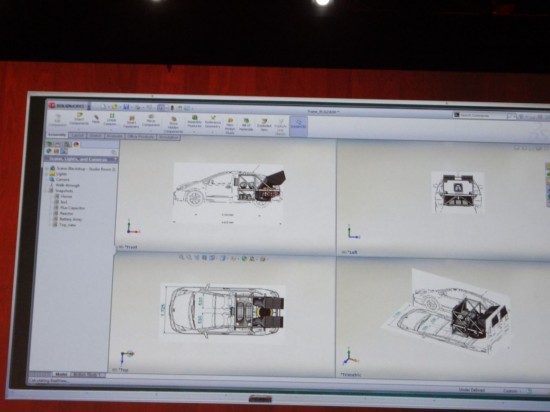 Simulation Sub-Modeling – takes loads and boundary conditions and applies it to a subset of the design. You can add additional parts to the submodel as well. The loads and boundary conditions even update when the assembly is updated.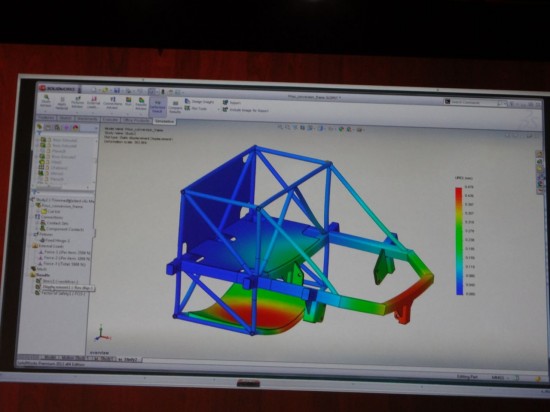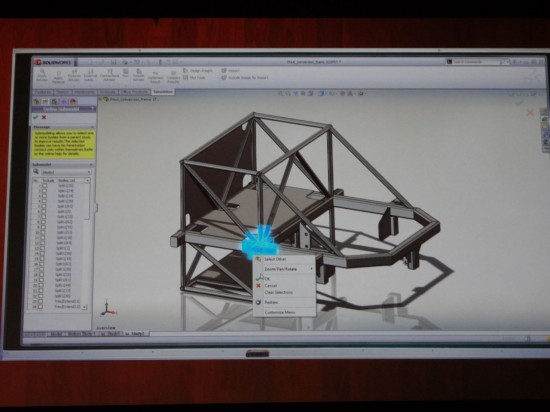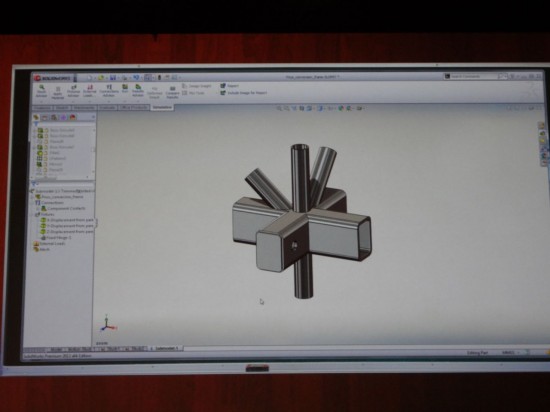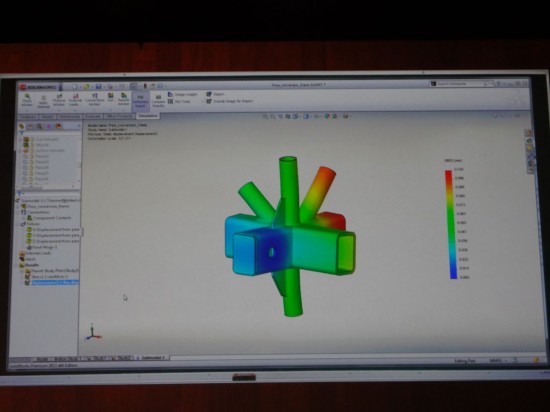 Bounding Box Cut-List Properties – Cut list items are now identified by a 3D bounding box that automatically identifies the description, length, width, & height of the components and populates them into the cut list.  This is said to work for all items, including gussets, end caps, and parts modeled with standard SolidWorks features.  (Items outside of the structural members do not do this in the current version.)  (Updated:  2-18-12 4:07pm)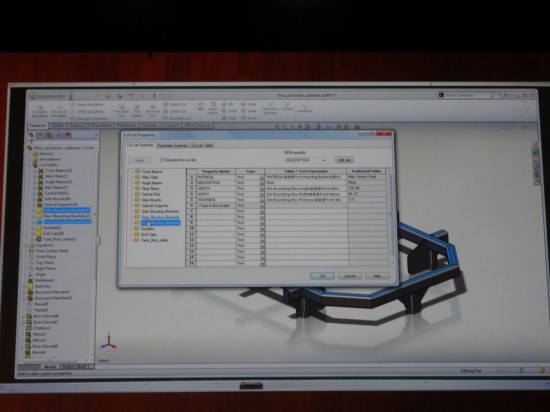 3dvia Composer Cameras – Adds Support for multiple cameras. Can adjust camera views all along the timeline.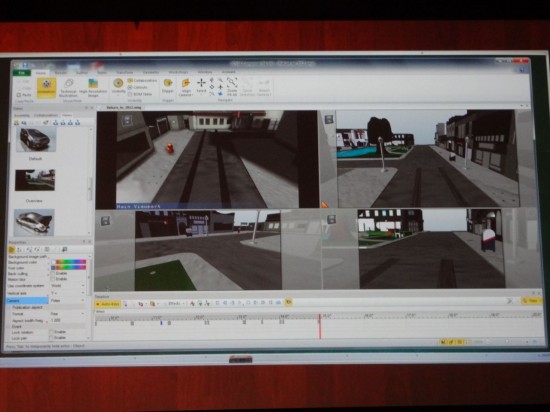 Quick Pick Document Type – There are three quick pick document filter icons located just about the normal file type pull-down box. The filter options are for SolidWorks Parts, Assemblies, & Drawings. You can use any combination of the filters to quickly show the desired list of files.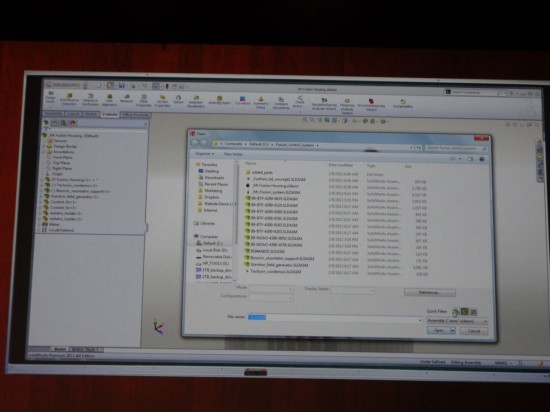 Envelope Enhancements – Envelopes in 2013 can be used in Parts & Assemblies as reference data. Envelope components can be switched back to regular parts at any time. In Drawings, Envelope components can be shown with phantom lines. They are not included in the Bill of Materials either. At the top level assembly, Envelope components are automatically hidden.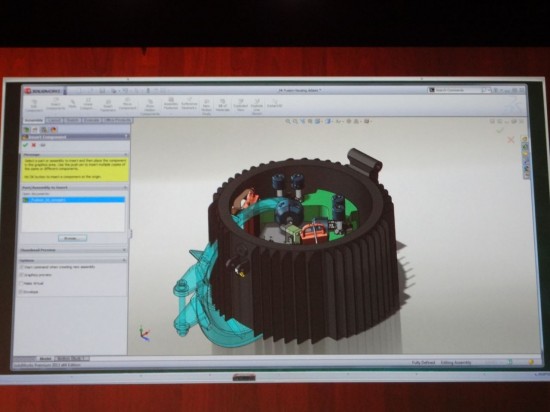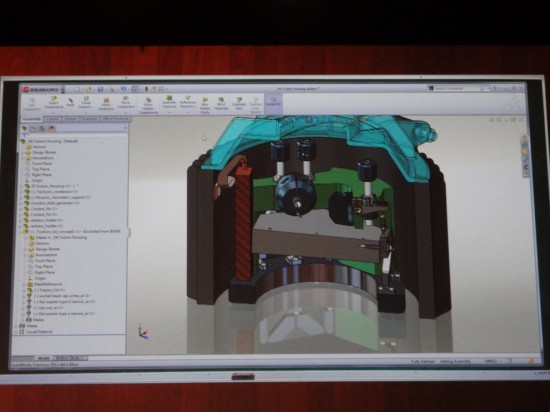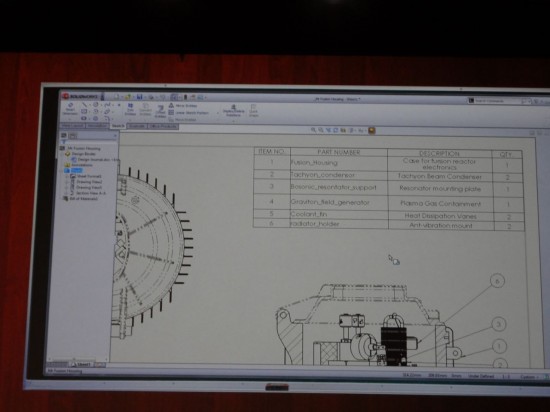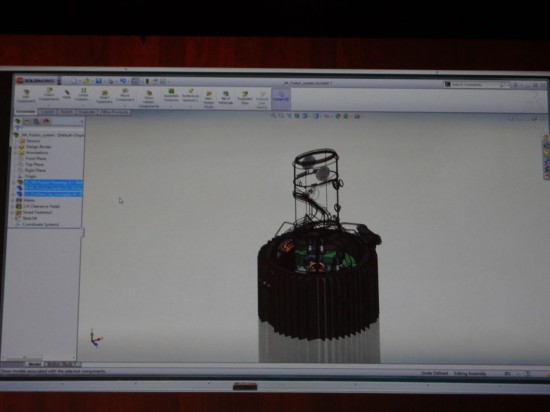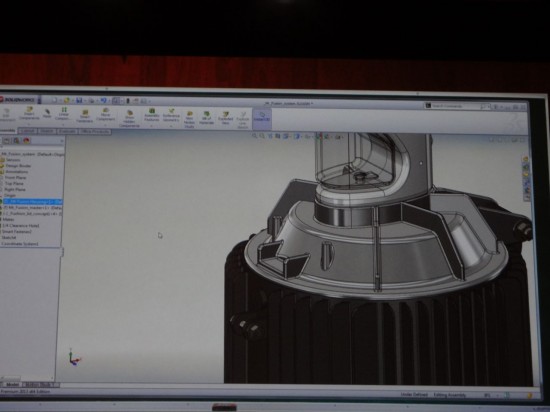 Insert Multiple Parts at Once – This one is pretty self-explanatory. You can bring multiple components into any assembly all at the same time.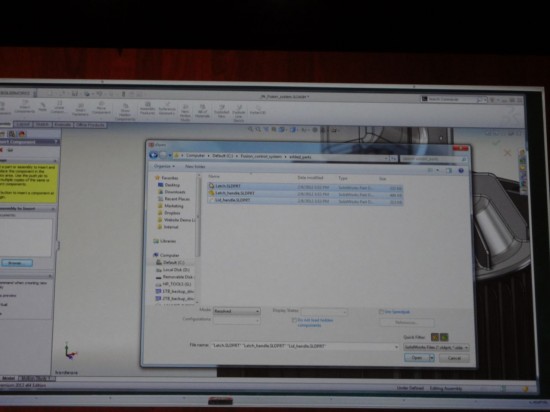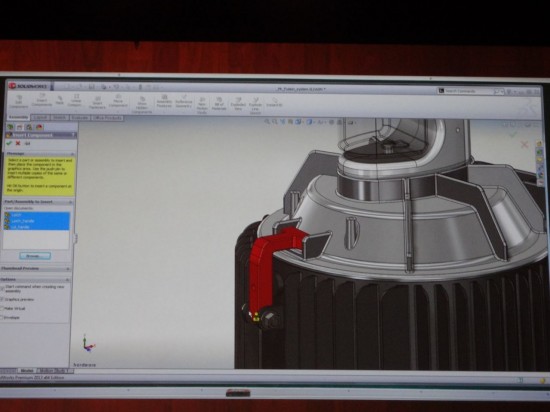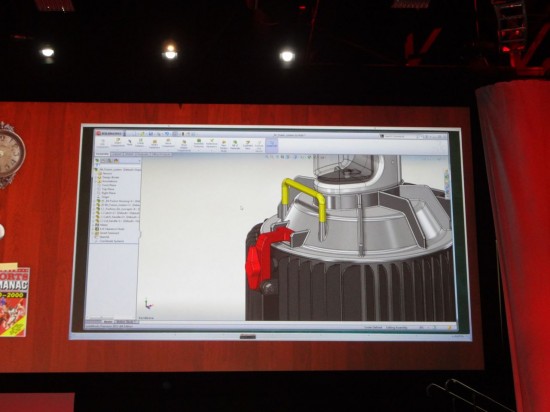 Multiple Exploded Views per Configuration – I've wanted this enhancement since SolidWorks 98plus! You can now create multiple Exploded Views of a SolidWorks configuration.
Rotate Exploded Part – In addition to moving parts in three different directions during the creation of Exploded Views, you can now rotate the parts as well!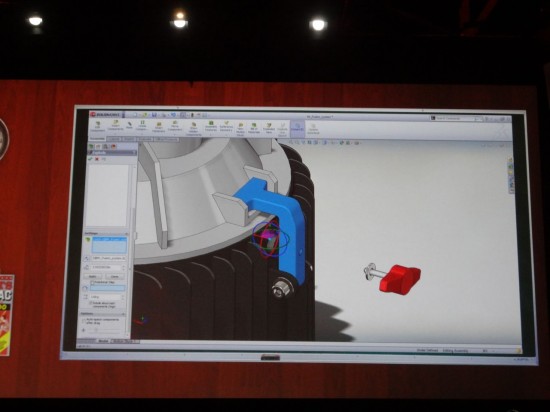 Favorites Folder – You can add a Favorites Folder to the FeatureManager Design Tree that allows you to store key features for quick access.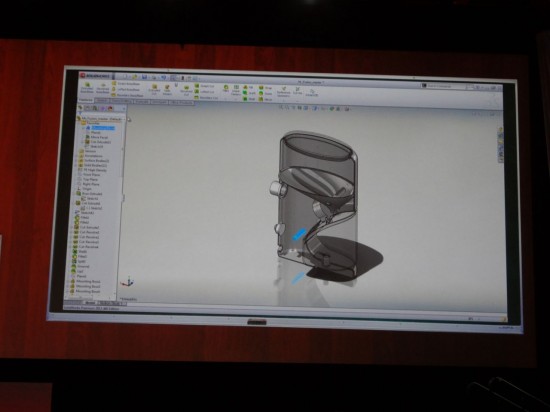 Mounting Boss Feature – This looks really good for folks designing plastic parts. It looks like there are many options in the PropertyManager to configure the boss to the desired shape. All of the features of the Mounting Boss can be stored as Favorites for reuse later on.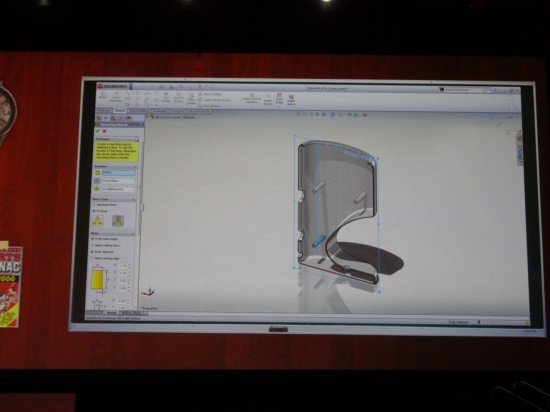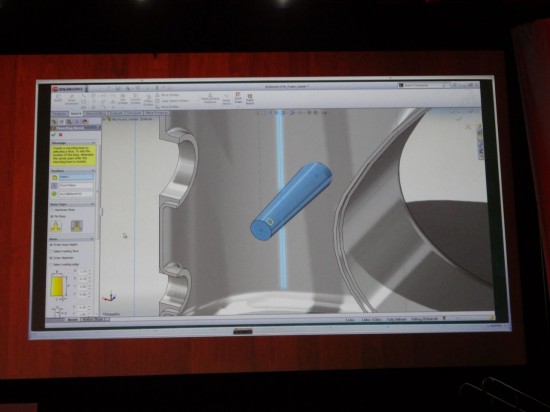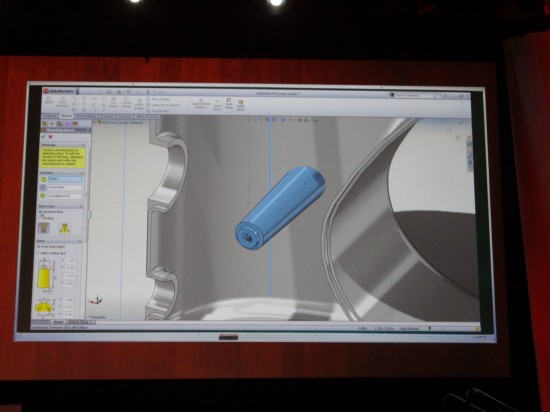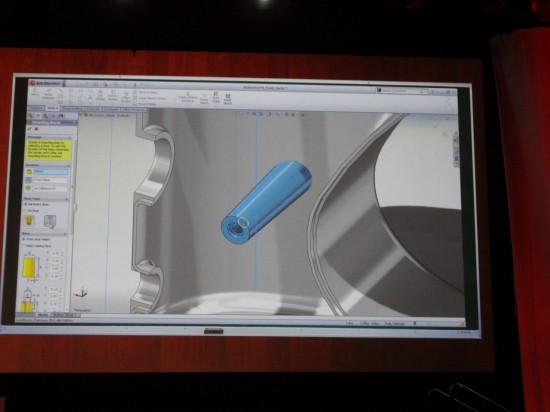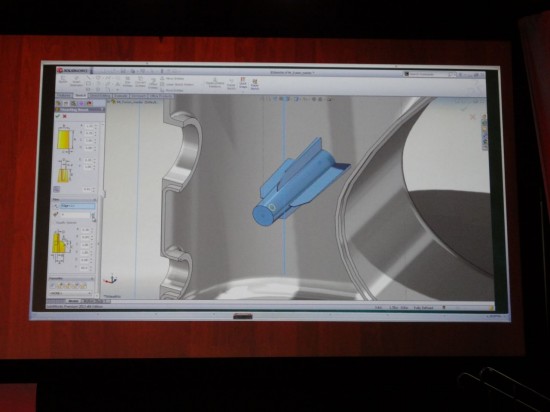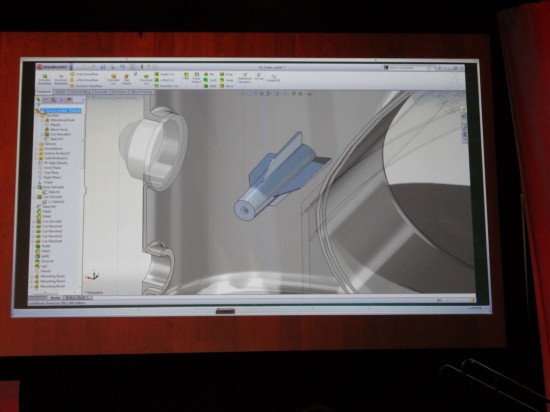 Cosmetic Thread – You can now turn off the "dreaded" dotted lines created with Cosmetic Threads without affecting the "thread texture" display on the fasteners. Basically they have separated the filtering of these annotations where they used to be controlled with one display filter. This is another one of those little things that will be a welcome addition.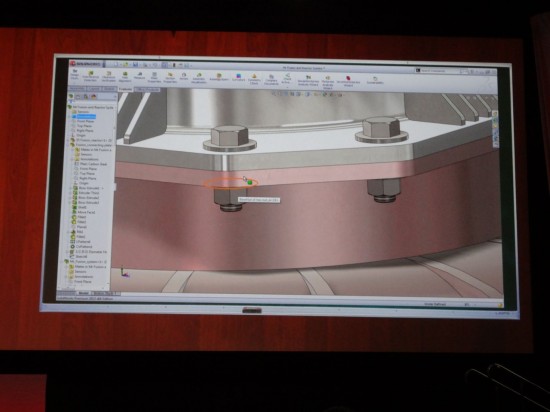 Dowel Hole – Dowel Holes have now been added to the Hole Wizard feature. When you create a Drawing featuring these holes, a dowel hole annotation is automatically added.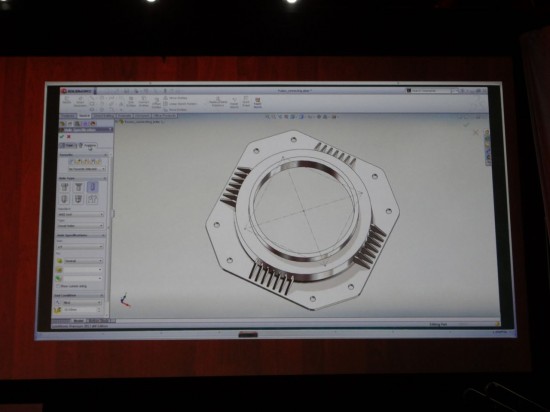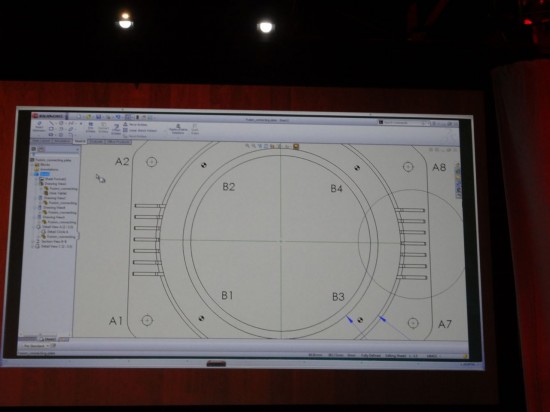 Surface Intersect – This is an intriguing tool. You can use surface bodies to add and take material away. Essentially it will take entire surface bodies and trim and extend the model by adding and taking away the material necessary to match the solid shape to the surface shape.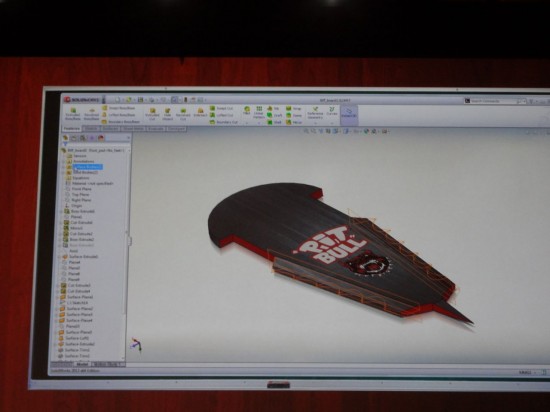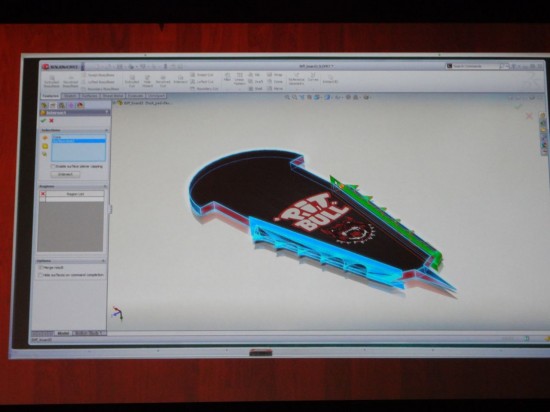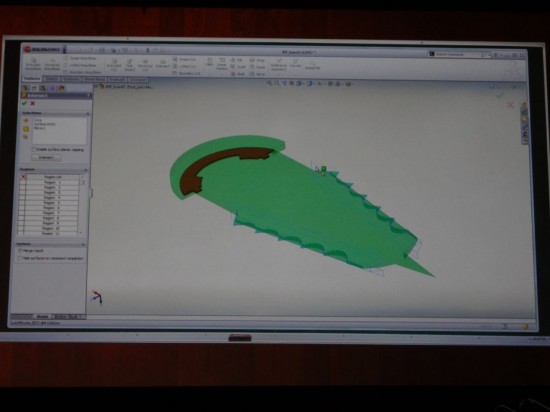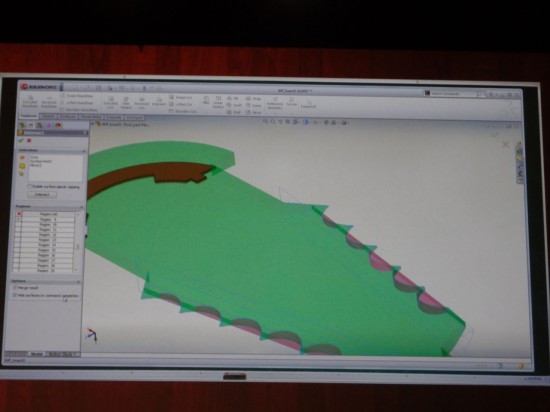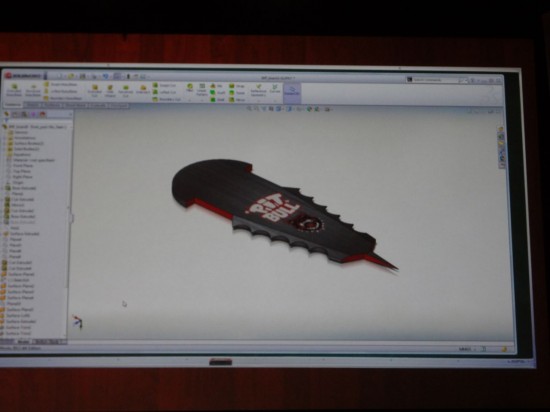 Extrude Multiple Thin Profiles – This is another one that is pretty self-explanatory. In SolidWorks 2013, you can utilize multiple open profiles to create thin extrusions.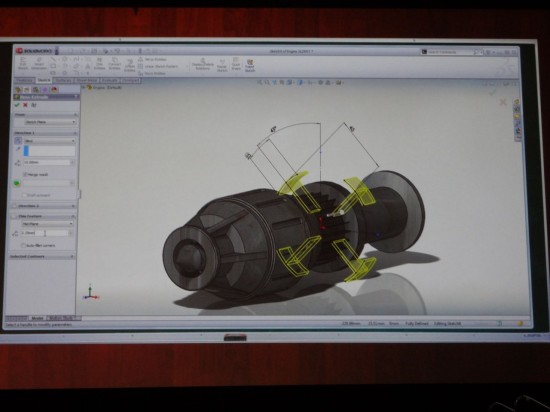 Equation Entry Everywhere – You can now enter equations in dialog boxes within the PropertyManager.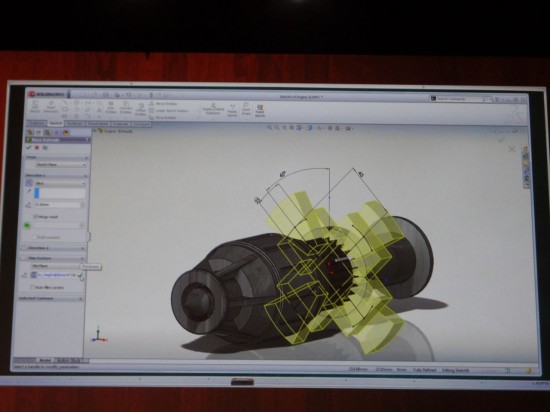 Vary Pattern Dimensions – You can now vary the dimensions of patterned feature instances. You can make each instance different by changing both linear dimensions and angles.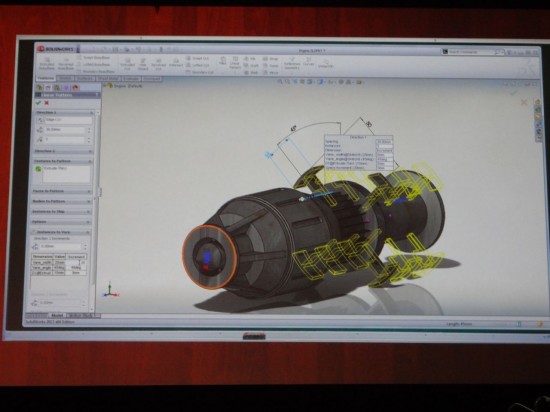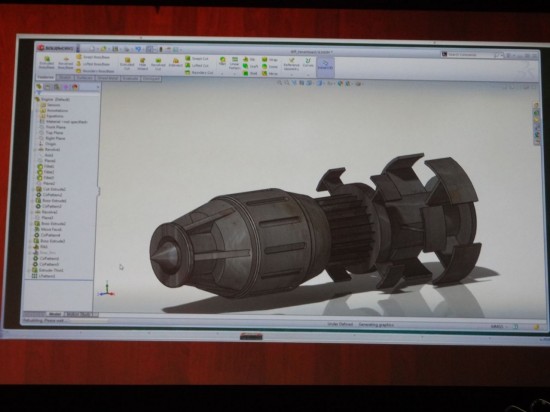 SolidWorks Enterprise Data Management Collaborate with Others – You can hover over document owner listings within EPDM and reveal contact information and online status. (This is nice….but I would have liked to have seen something a little more useful in their preview.)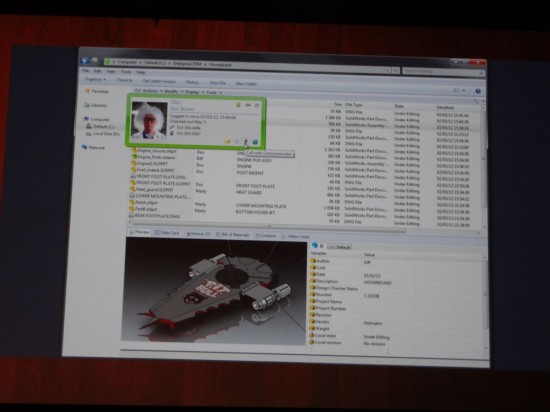 DraftSight – EPDM Integration/checkout – You can now Check In and Check Out files with EPDM from within Draftsight.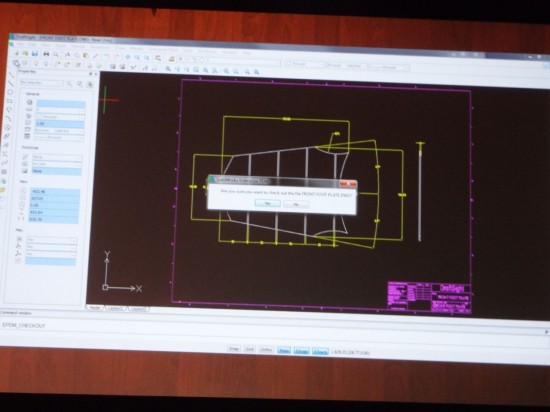 DraftSight – Copy Sketches to SolidWorks – You can copy line segments from DraftSight straight into a Sketch in SolidWorks. I think this functionality might have been present in previous releases when SolidWorks DWGeditor was around. I'm a little surprised this wasn't in DraftSight from Day one.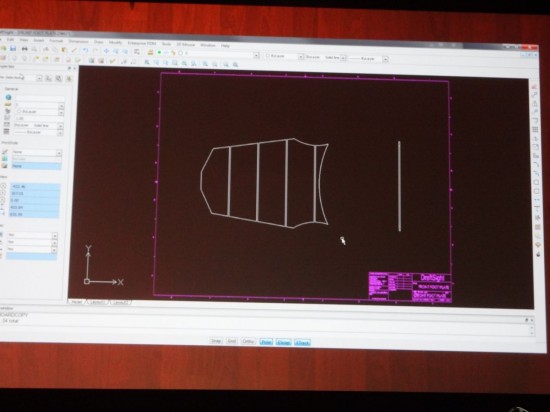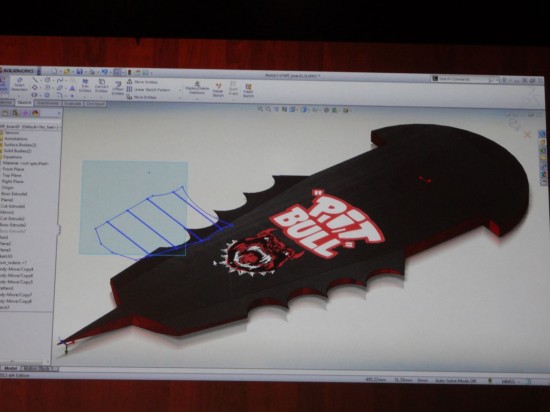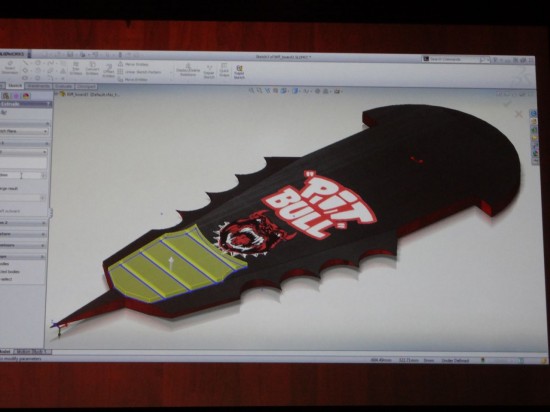 Previous Release Interoperability – SolidWorks 2013 files will open inside SolidWorks 2012 SP5. The files will be "frozen" which I assume means they cannot be changed. You have full access to all configuration data for the 2013 files as well. If the SolidWorks 2013 files are updated, those updates will show up in SolidWorks 2012 SP5.  Appearances of the models are always preserved in both versions.
This feature by far got the most applause…almost a standing ovation. As far as I can tell, this is a first for any 3D CAD product in this market. It isn't 100% backwards compatibility, but it does give users options that we have not had before. In previous releases, if a file was opened in the newer version, there was no way to even open it (with features) in the previous version.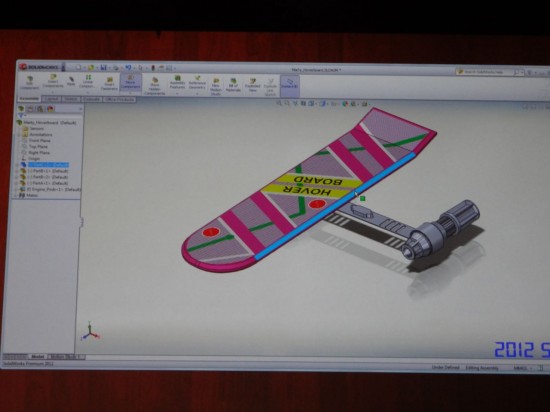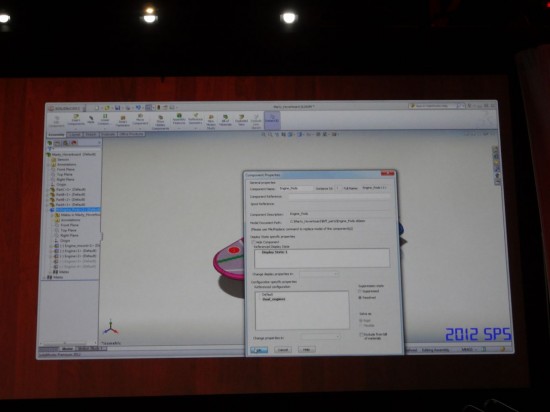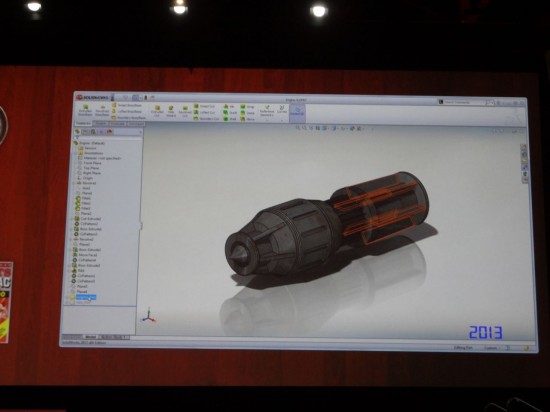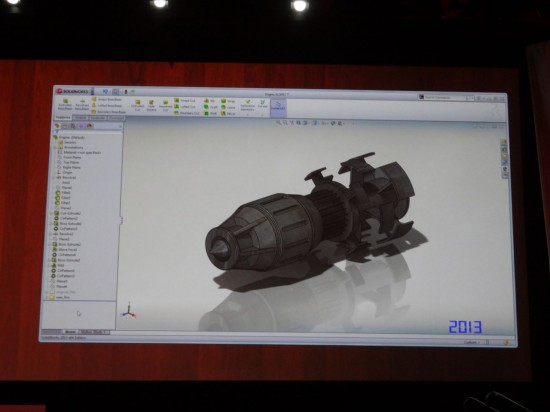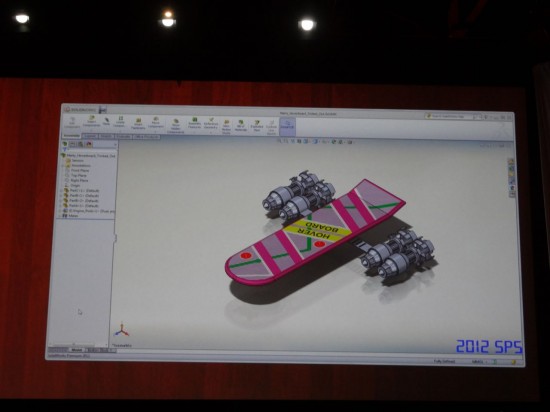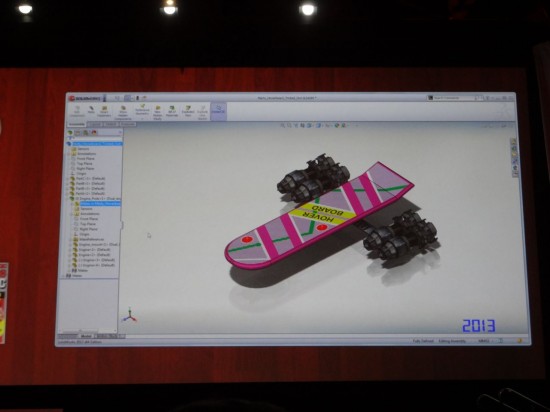 That is all the new features that were shown.  Overall, I felt like the enhancements shown this year were more popular than those shown over the past two years.  The interoperability capability is BIG.  It will be interesting to see if any of the other CAD Vendors follow suit.  Giving users the ability to read in a "future" version is a GREAT step forward.  Perhaps this could be expanded upon more in the future, but I don't expect to see too much added beyond this in the near future.  Time will tell on that one.
Click HERE to see the entire Flickr photo set for the day.
Stay tuned…more to come!