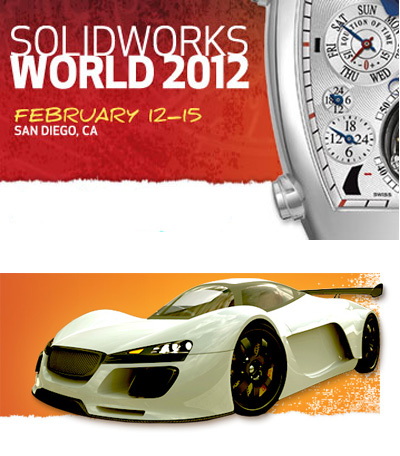 SolidWorks World 2012 Tuesday's General Session kicked off with Fielder Hiss showing off some video clips of the CSWP event from the Midway aircraft carrier the previous night. With the number of CSWPs continuing to grow, the event next year will be limited to CSWEs (Certified SolidWorks Expert) only. My guess is we will see a spike in CSWE exams this year. ☺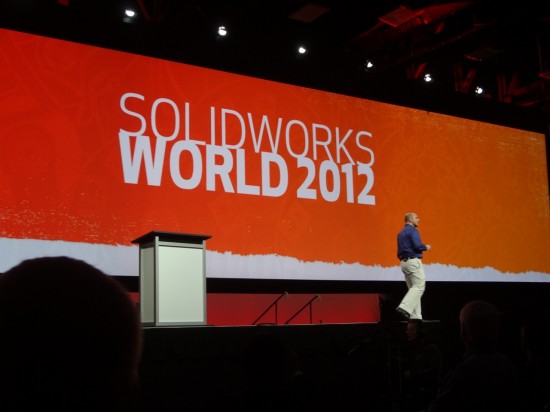 HP announced that they would be giving away quite a few prizes on Tuesday, including some 400+ gigabyte hard drives. (There seemed to be a MOB at the HP booth in the Partner Pavilion for the rest of the day.)
Richard Doyle was up next to announcing the 2012 SWUGN Awards. The User Group of the Year was the New Hampshire SolidWorks User Group. (Congrats to Cindy, John, & Hoang) The User Group Leader of the Year was Rachel York of the Tech Valley SolidWorks Users Group. The Michelle Pillars SWUGN Community Award was won this year by Charles Culp. Charles has a HUGE presence in the SolidWorks Forum and has started a website – swtuts.com that is a great FREE resource for SolidWorks users to gain knowledge. Congratulations to all the SWUGN winners!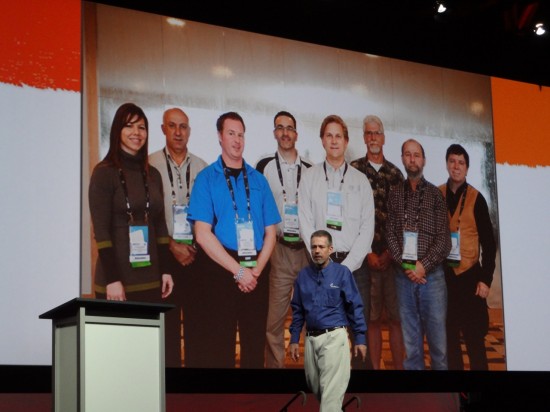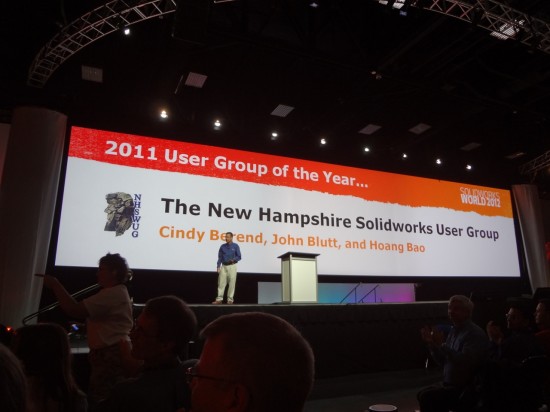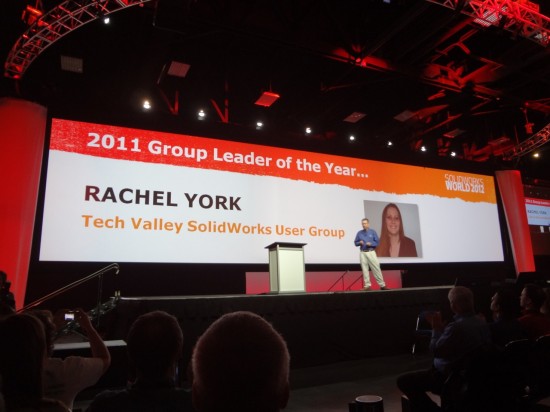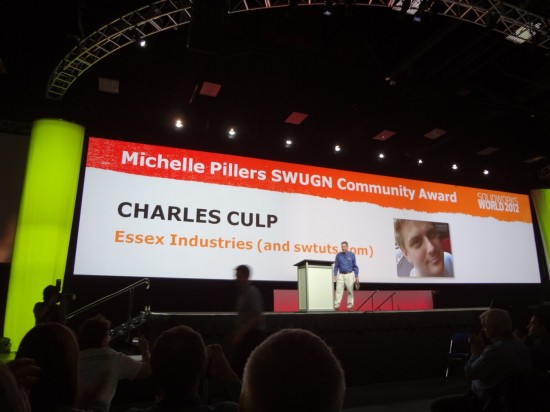 Next up was Mike and Geoff Howe from Howe and Howe Technologies. They have had a couple of different shows on the Discovery Channel over the last few years. These guys build REALLY COOL stuff!! I wrote about them a few years back when their first show hit the Discovery Channel. They are probably most famous for their Ripsaw all terrain tracked vehicle. Howe and Howe Technologies have used SolidWorks for several years now. They are heavy users of Simulation and PhotoView 360 as well. Mike and Geoff got their big break when the US Army contracted them to build some autonomous Ripsaw vehicles. They have developed many other vehicles and devices of various types since then. (Check out their site to learn more.)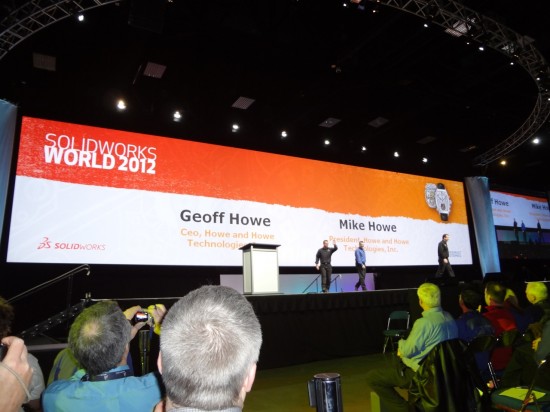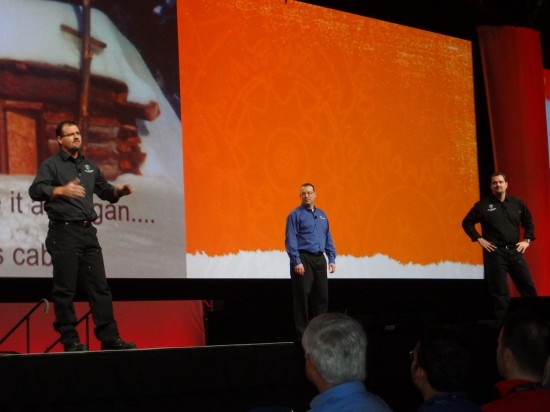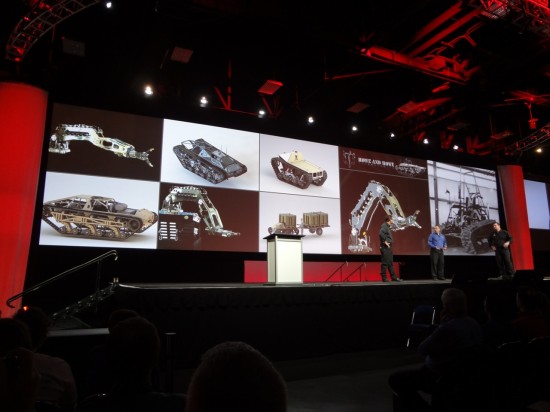 One of their latest devices is a Robotic Arm that weighs only 300 pounds, but can lift over 2000 pounds. It is built using Hydraulic motors and made from mostly 6000 and 7000 series aluminum. Their hope is this arm can be used to lift heavy items in rescue situations or other situations where it isn't safe (or practical) to send in people or other larger equipment.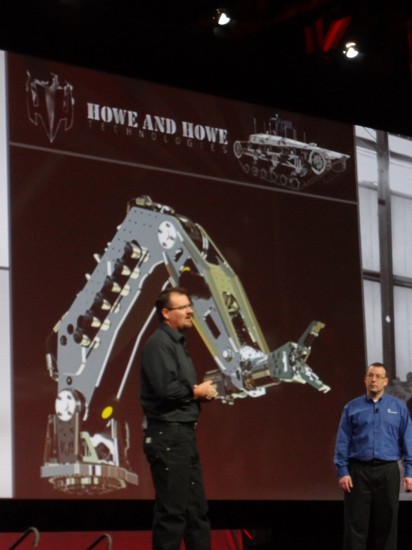 At the press conference after the General Session, Mike and Geoff hinted that they "might" have some vehicles in the upcoming GI Joe II movie coming out later this year.
One of the things I really respect about the Howe Brothers is that they give back to the community. They built a modified (and smaller) version of the Ripsaw that carries a wheelchair so that a disabled veteran they knew could enjoy the many outdoor activities he used to be able to do.
They are also working to develop a camp that disabled people can attend. At this camp they will have access to equipment that will allow them to fully enjoy many different outdoor activities. They are looking for dontations, so check out their website – www.outdoorsagain.org
Ben Kaufmann with Quirky.com was up next. Somehow, I had not yet heard of this website, but I will certainly remember it now. It is collaborative site for inventors to share their product ideas. Every week after receiving on average 200-300 products ideas, they pick two to develop. With 30-40 Mechanical, Industrial Design, & Electrical engineers on staff, Quirky does much of the footwork in developing the products. All during the development process, online collaborators are involved. They are allowed to see the design as it progresses and provide feedback. If their ideas are used in the product, collaborators can end up receiving royalties. The inventor who submitted the idea can end up receiving up to 30% of the final profits. (This was the percentage shown in their examples.)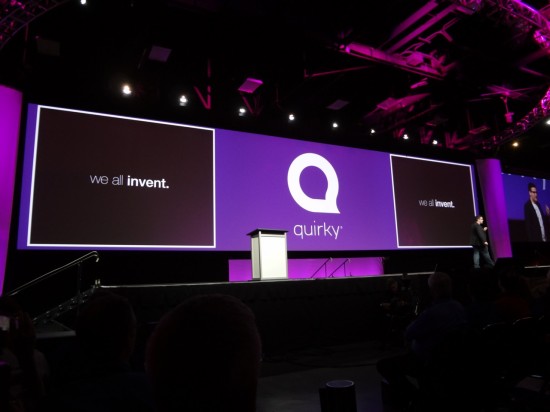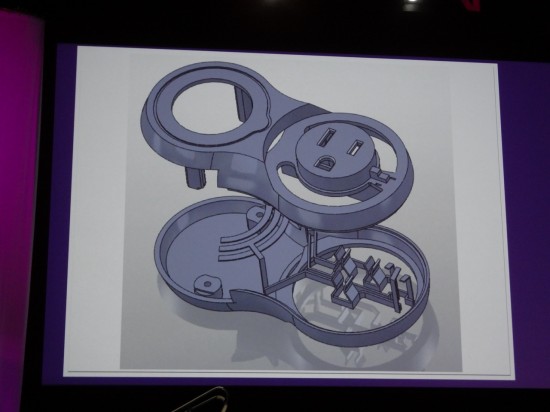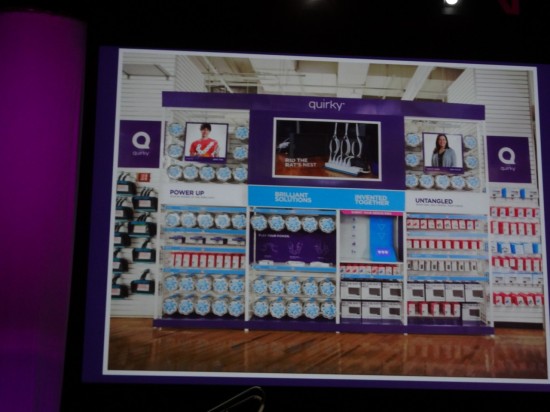 It can take quite a bit money to develop any product these days. Quirky.com allows someone with a great idea but no capital to bring that idea to market. I especially liked the pivoting power strip design which was their "case study" of sorts for the presentation. (I might have to pick one of those up!) They have sold over 200,000 of them in the last 6 months.
Shockingly enough, we finished this General Session EARLY? I don't remember the last time that happened….but it did give everyone a little extra time to get ready for that 10:30 breakout session.
I'll have the Wednesday Session posted soon.
Click HERE to see the entire Flickr Photo Set for the day.
Stay tuned….more to come!