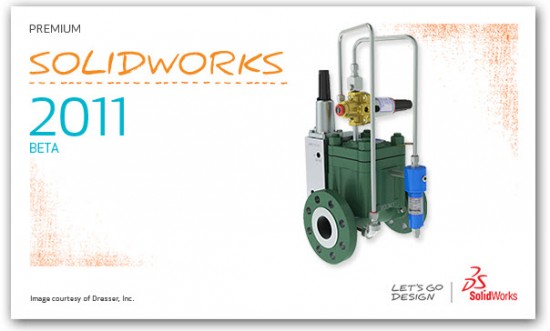 DS SolidWorks Corporation today unveiled SolidWorks 2011, the latest release of the most popular 3D CAD software on the market. There are many new features to talk about, but today I'm going to hit the highlights of what is coming.
Theme
Every release has a theme and this one is no different. Along with improving Performance and Reliability (which is and should be a focus of every release), here are the major themes.
Design Faster and more Efficiently
Enhanced Support for Manufacturing
Improved Collaboration and Visualization
This release included over 200 enhancements, many of which were customer driven.
Weldments
The biggest addition to Weldments is the introduction of a lightweight Weld Bead command which can be invoked in both Parts AND Assemblies! The functions of the command are the same for both environments. The resultant Weld Bead is NOT a solid body (only graphical representation), so it is generated VERY fast. Below are some capability highlights:
Weld Annotations are automatically generated with the Weld Bead
Can weld around complex intersections
Can weld around gaps between tubes
Can do Intermittent and Staggered weld beads
Instant 3D handles available on screen to adjust bead length
Can change weld bead types through the auto-generated Annotation
Smart Selection Tool allows for RAPID intersection selection and bead production
Weld Tables automatically generated in SolidWorks Drawings
Caterpillar and End Treatment tools to show Weld Beads in Drawings
Separate Weight Calculation tool for the Weld Beads
Drawings
Drawing views now support the display of component colors as line color display
New Algorithm to place model item dimensions in a much more orderly fashion
Ability to Auto Arrange existing dimensions through multiple selection
Spacing thumbwheel can be used to control the gap between dimensions when using Auto Arrange
Hole Table: Can delete rows, renumber tags & show dual dimensions
Rotate View command in Drawings now
Curves
Curves can now be used to create reference planes. You can also reuse Curves for multiple features. The Helix command now supports this as well. Height and revolution have been added to the Helix command along with on screen fly-outs for all the parameters of the feature.
Sheet Metal
You can now pattern or mirror Tab features
The outline size of the sheet metal "blank" is now automatically generated as part of the Flat Pattern command.
Bend Calculation equations are now supported
Grid System
This is a new feature that allows users to rapidly create a network of sketch features for Weldment framework generation. This is an interesting topic that we will cover in more detail on this site later.
FeatureWorks
Can combine fillets and chamfers during auto-generation. (This is NICE)
Now supports the recognition of Draft features
Recognizes revolved features better
Boss-Sweep and Cut-Sweep added to the list of supported features.
Routing
Introduction of the Routing Library Manager (can be opened without the SolidWorks application running)
Better support for the Routing component wizard
Tag Schema Manager for P&ID diagrams
Piping and Tubing Database can control ALL Piping & Tubing properties
Will pick Piping Flange size based on a component outside of the route.
Can create individual weld gaps on piping components
Enhanced convert guidelines
Dimensions added to piping routing sketch will automatically dimension to the outside of the pipe
RMB Move fitting with triad. (Will allow users to rotate and move the routing part while staying linked to any attached routes.
Defeature
This tool allows you to convert an assembly to automatically create a "dumbed down" model with many less components and features. This is common for parts that you want to share but not include any internal or sometimes external detail. It also has the ability to preserve mates between parts when creating a new file. The new file is an Assembly with virtual component parts.
Appearances & Rendering
Fully integrated Photoview 360 into SolidWorks
Can adjust all aspects of Appearance data
Decals have been made part of the SolidWorks Standard package
Display Manager now added as a 4th FeatureManager Tab. It houses all of the Lights, Scenes, Cameras, and Walkthrough features.
Can work in SolidWorks while renderings are being processed.
Miscellaneous
Better utilization of memory which allows you to stay in SolidWorks a lot longer without having to reboot the application
The measure tool can now be used while creating or editing a feature.
You can now "configure" global variables, scale factors, and thread callouts
Improved Parting Surface command in Mold Tools – Better control of how the surfaces are generated
Equations now support suppression of a component based on condition statements
All new UI for the Admin Image Editor along with many new options
Can add Sustainability data to the Assembly Visualization tool.
OK…that is the Quick List. I'll get some more screenshots rolled into this post tomorrow.
Stay tuned….more to come!
DISCLAIMER:  DS SolidWorks Corp paid for my travel, accommodations, and some meals for the SolidWorks 2011 Blogger Press Event.