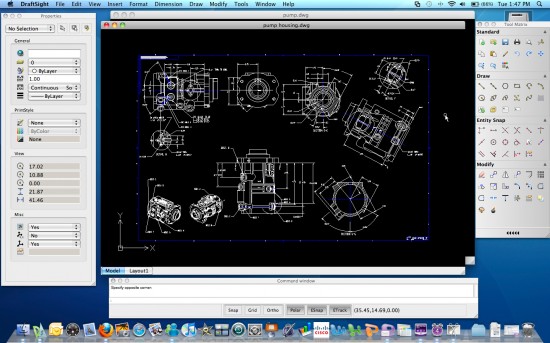 At the SolidWorks Blogger Press Event today in Concord, MA, we were shown a screenshot of the upcoming DraftSight version for MAC.  DraftSight for MAC will be available as a FREE download here in a couple of weeks over on the DraftSight page.  I should have a high resolution image for this tomorrow sometime, but in the meantime, here is a sample image that shows the interface.
There is lots more to report on the SolidWorks 2011 front, but it will have to wait till 8am EST tomorrow morning.  That is when the NDA on SolidWorks 2011 will be lifted.
Stay tuned…lots more to come!!
DISCLAIMER:  DS SolidWorks Corp paid for my travel, accommodations, and some meals for the SolidWorks 2011 Blogger Press Event.
UPDATED:  9/1/2010 – A better screenshot of the interface has been loaded.  You can click on the image above for fully detailed view!