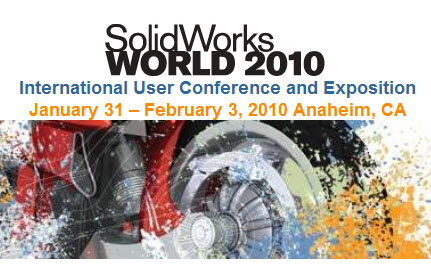 This is just the first post of many to come on this. I'm going to try and hit the highlights and then we will get into some of the details later. Today at the first General Session of SolidWorks World 2010, SolidWorks previewed some new technology that they have been working on now for the past three years. In involves the integration of several technologies into an application that runs "in the cloud". Yes…you heard that correctly….on the internet. There are obvious concerns that many folks will have with this, but for the time being, let's hold off on that discussion and save it for a bit later.
Before I get into what was shown too much…this is a preview only. No product announcements were made (just yet) but Jeff Ray said that they are "close" to having things where in place. Jeff was joined on the stage for this product demo by Joe Dunne, Mark Schneider, & Mark Biasotti.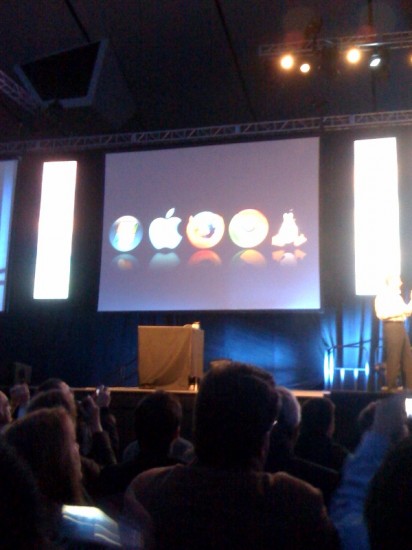 The SolidWorks Cloud system runs on ANY operating system…yes ANYTHING. Windows, Mac, Linux, iPad, iPhone, Netbooks. It is operating system independent. OK..now that you have picked yourself up off the floor….lets continue.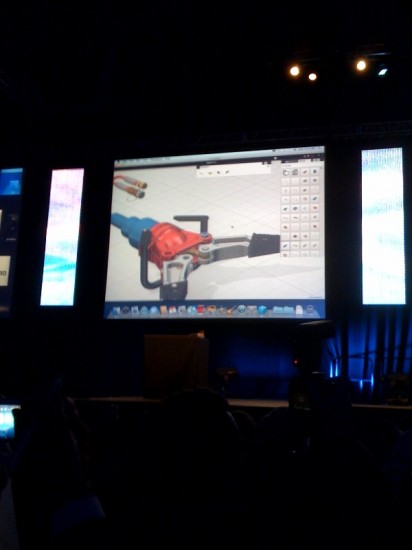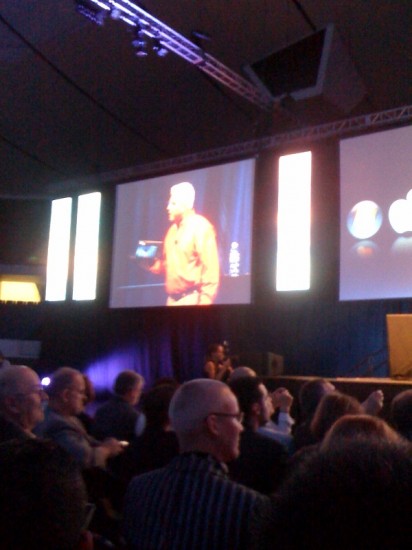 The problems that they have set out to solve with this system include installation times, rebuild times, tedious sketching, overly complex models, & and long simulation calculations. Real-time communication and collaboration was also shown as a major problem to solve.
Communication of Design Data
Since you are in the cloud, you can work realtime with others from the design team. So collaboration can be taken to a whole new level since all of the input is coming to a central server (in the cloud) The shot below shows the Cloud application with collaborative flyouts in action.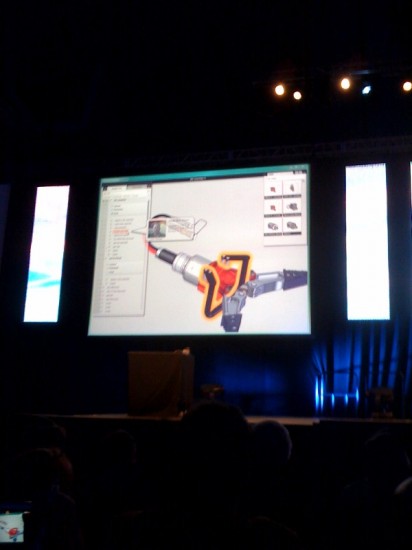 Modeling
When it comes to modeling, Jeff Ray said the two biggest complaints heard from customers include the lack of data reuse & modeling speed/ease of use.
In demonstrating the product, you could see that the files were not opened…but instead called up by using searches. A sketch was shown where several "template features" were placed into an existing sketch by searching for existing template profiles in the online library. The shapes were brought in and trimmed on the fly in the sketch. There were no relations or dimensions added directly to the sketch…but things were able to be "dragged" using manipulators that came up on the screen which still allowed for precision control of the sketch profiles.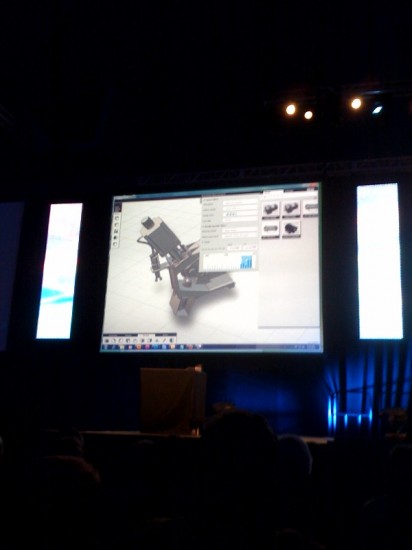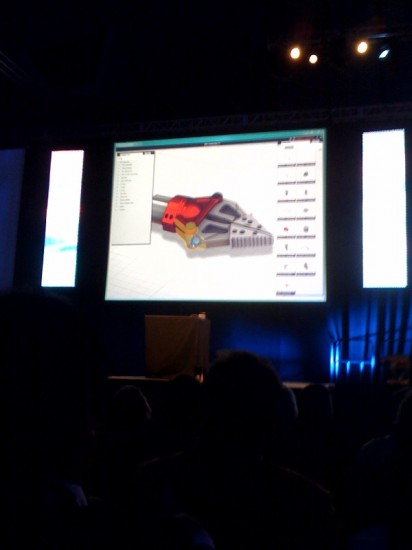 I could not tell if the sketch had any parametric properties or not. But directly after showing this sketch, Joe discussed the fact that Parametric design is powerful and will still be around for a long time. But…direct editng is ALSO integrated into the SolidWorks Cloud application which allows for users to use BOTH technologies.
The Cloud application will also break down the barriers between parts, assemblies, and multi-body environments by bringing all of them into a unified environment that will allow BOTH Parametric and Direct Editing capabilities.  (Wow…I'd love to know more about this!)
Another problem that often plagues SolidWorks and other CAD systems is the lack of "real-life" performance with certain types of components. These components include springs, gaskets, & orings. Basically applications where the components need to stretch. SolidWorks in the Cloud was able to insert a spring into an assembly and then PROPERLY stretch the spring to the correct length based on the posts that the spring were "snapped" to. They were then able to move the jaws of the assembly and the spring length dynamically updated real time!!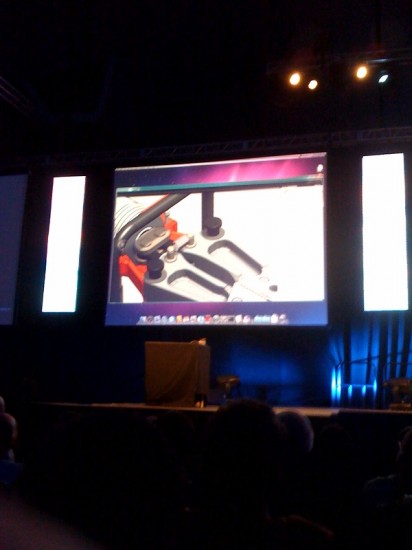 Performance
Many of the problems in the performance area include the ability to open and work in large assemblies. In the Cloud, you can "access" large assemblies almost instantly without having to "load" the assembly. So there is no waiting for the file to open! The assembly shown and "visually navigated" in the cloud application was said to be a 100,000 component assembly.
Also demonstrated was rendering in the cloud. A rendering was produced WHILE you work in the cloud application. The Cloud server just let's you know when the rendering is complete!
Reliability
SolidWorks in the cloud is much less resistant to data loss when the client application crashes. They demonstrated a tool that purposely crashes the client application. The server application was unharmed and the data was not lost in the cloud! In theory…you can never lose your data when you crash.  (unless the cloud server crashes)
Wednesday General Session
On Wednesday SolidWorks will announce a new product that involves SolidWorks & Enovia V6 that works in the cloud.
There is a lot more to write about with this technology.  Here are a few questions off the cuff.
Is this just a "Cloud Technology"?  The fact that I could see "new features and methods" of modeling integrated within this approach leads be to believe that the answer might be no.  While we could still see features listed in the tree in some of the examples, the tools shown clearly demonstrate that building models and modifying models are quite different in the "Cloud App".
Will everyone "truly" be able to use a web-based Cloud App?  I can answer this one easily.  NO.  Anyone working on projects that have anything to do with the US government understands this.  I'm sure SolidWorks knows that and will be prepared at some point to address that.  One scenario would be for a company to setup the "Cloud Server" on computers internally inside the corporate firewall.  Google Wave has recently allowed users to install their Wave software on servers…so I certainly could see it being possible.
Will this application interface with CATIA data?  YES.  I believe it will.  Bernard Charles (CEO of Dassault Systemes) made his first appearance at SolidWorks World today and gave a presentation on stage.  The 10 year plan for DS is to have "some" transparent access for SolidWorks users to other Dassault Products.  It was also mentioned that the Cloud app was a joint project between SolidWorks R&D and Dassault R&D.  The new SolidWorks "Mission statement" which aligns with the DS ten year plan is "3D for Professionals" which certainly opens up the possibilities of just where SolidWorks can go as a product.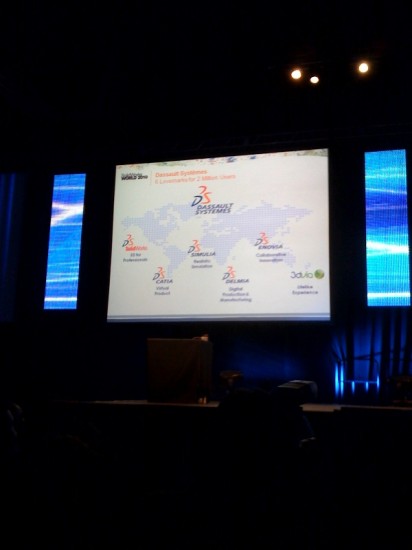 Well..that is all I have time for now…will have much more on this later.
Stay tuned…much more to come!
LATE PM UPDATE: Deelip has written a couple of articles with some interesting comments and I have provided links to them below.  Deelip was able to talk to Jeff Ray about this a little and I personally heard Jeff address questions regarding this Technology at the SWUGN Summit this evening.  Many of Jeff's comments were similar to his answers to Deelip's question.
Deelip.com – SolidWorks World 2010 (Day 2) – Direct Modeling
Deelip.com – SolidWorks World 2010 (Day 2) – More Direct Modeling
Deelip.com – SolidWorks World 2010 (Day 2) – A Discussion with Jeff Ray
Deelip.com – SolidWorks World 2010 (Day 2) – Some Cool Stuff
We are looking at TWO "platforms" for SolidWorks software in the not too distant future.  The "Cloud" platform and the "Traditional" platform.  Jeff Ray mentioned tonight the "Traditional" platform will still have at least 10 more years of continuation and that users will not be "forced" to switch to the new platform anytime in the near future.
I think the goal is that SolidWorks is trying to solve many of the common problems users face on a daily basis with the "Cloud" platform.  These are the type of problems that can be addressed in the most efficient manner in the new platform such as the many "subject" I listed in the article above.  With that said, the "Traditional" platform will still be fully supported for quite some time and will continue to be enhanced.  We are set to see many of the new enhancements in SolidWorks 2011 in the General Session on Wednesday.
That's all for today on this….much more to come! – Ricky