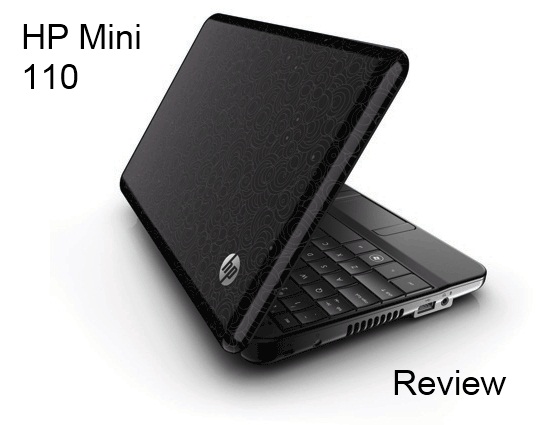 Last year while attending SolidWorks World 2009, I started thinking seriously about purchasing a "netbook" computer after lugging around an 8.5 pound Dell M6400 for 6 straight days.  Rather than purchasing one right away, I decided to wait and see what the rumored "Apple Tablet" looked like before taking the dive.  With SolidWorks World approaching, I decided to pull the trigger and buy one.  (Interestingly enough, it is rumored that Apple will announce their Tablet PC a few days before SolidWorks World 2010 begins.)
After doing quite a bit of research, I decided that the two netbook models I liked the most were from Toshiba and HP.  Both of these systems had a very nice keyboard, good overall ratings, and were priced around the ballpark $350-$400 that was my budget.
I went to Best Buy the day after Christmas and wasn't too surprised to see that most of their stock was picked over.  They had a Gateway Netbook that looked OK, but the keyboard was VERY cramped.  Just as I had decided to wait until their stock was replenished, my DW (Dear Wife) spotted two HP mini 110 computers out in front of the computer area on one of the island displays.  I snagged one of the boxes quickly and looked at the specs.  They matched up with almost all of my requirements, so I went and ahead and put it in the cart.  Here are the specs:
Intel Atom N270 1.6 GHz processor
1 GB DDR2 RAM
10.1″ LED backlit Widescreen
160GB Hard drive
Webcam and microphone built in
5-in-1 Media Reader
Windows 7 Starter
3 USB ports
Built in wireless and ethernet connector
6 cell battery (8 hour battery life)
The only feature I wanted that I didn't get was the 250 Gb Hard drive.  I figured if that became a big deal, I could replace it later since hard drive prices are still falling.  None of the "brick and mortar" netbooks seem to be coming with 2GB of RAM, so I knew that would need to be an upgrade as well.  This was the first computer I have actually walked in a store and bought.  I usually order my systems online and have them custom built.
There is definitely a size difference when you buy a netbook.  Just for comparision, here is the Mini 110 sitting next to my Dell M6400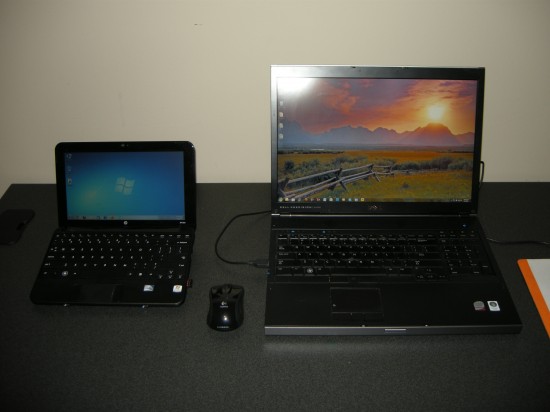 The first thing I noticed about the system (after all the initial setup) was how FAST it boots up!  The keyboard is very comfortable and I have had no problems adapting to it.  (In fact, this entire article was created on my HP Mini 110). The battery life seems to be very close to the advertised 8 hours.  I haven't timed it yet, but worked all day on this PC Saturday and never had to plug it up!
The jury is still out on Windows 7 starter.  So far, I haven't experienced anything I can't live without.  Microsoft took off the "open applications" limit that was initially going to be part of this OS.  If that had remained I would have had SERIOUS issues with it, so props to Microsoft for getting that part right.  I still think many netbook users are upset at the functionality lost in going from Windows XP Home to Windows 7 starter.  Here's an article that discusses that a bit.  I am making a conscious effort to put Windows XP in the rear view mirror.  So far Windows 7 starter is working for me.  If that changes, I can use the "Anytime update" to upgrade Win7 starter for around $80.00. (Way to pricey if you ask me…)
I really wanted to keep my netbook "light" on programs.  The first thing I installed was Google Chrome followed by Firefox.  I have only used IE a few times on this machine and MAN WAS IT SLOW!!!  Firefox also seems to take a little long to get going but is better than IE.  Google Chrome blows both of them away in startup speed and browsing.  On a machine like this Google Chrome's "lightweight" browser really shines!
To start with I am trying to go without installing Microsoft Office on this machine, instead opting for Open Office and Mozilla Thunderbird.  So far so good on that!  Open Office will open the xml based Office documents that come out of Office 2007, so I haven't "needed" full up MS Office at all!  I have read that netbooks can run Office 2007, but they are more taxing on system resources as compared to Open Office.
I haven't really had the system RAM above 750Mb so far, but I am seriously considering adding more RAM to make the system a little more "peppy" when running multiple programs.
So far, I have installed the above mentioned applications plus Tweetdeck, Paint.net, and Flipshare (for my HD Flip cam).  Tweetdeck/Adobe AIR runs like a champ on this machine.
The only thing I have found with this machine that is disappointing is the video performance.  When playing a full 1080p HD clip, the video gets a bit choppy.  There are rumored PCI Express cards that can be added to enhance the video playback functions, but I have found nothing that is actually out yet.  Since the video memory is shared, I'm hopeful that upgrading the RAM might help a little bit in this department.  That won't help the intense CPU usage though that occurs when you play videos of that type.  Lesser quality HD videos and regular videos seem to play just fine.
I ended up getting a Logitech V450 Nano Cordless Laser Mouse from Best Buy when they were on sale for $29.99 (regular $49,99).  I absolutely LOVE this mouse!  The receiver once it is plugged in only sticks out about 3/8″ from the USB port face.  Since it has such a low profile, I can leave it in the laptop at all times without the fear or damaging the USB port if it gets hit.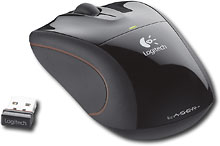 Overall, I really like this netbook so far!  I boots up fast, is easy to use while sitting on the couch or in the recliner, and weighs in just under 3 pounds.  Web, e-mail, and word processing apps work VERY well but I think a RAM upgrade to 2 GB is a really good idea.  Cost for that seems to range from $55 – $75 depending on where you look.  As mentioned earlier, the video is a little choppy when you play full 1080p HD, so I'll be looking for some things to improve performance in that area.  I'm really looking forward to using this machine at SolidWorks World 2010!  I hope to see you there!
Stay tuned….more to come!