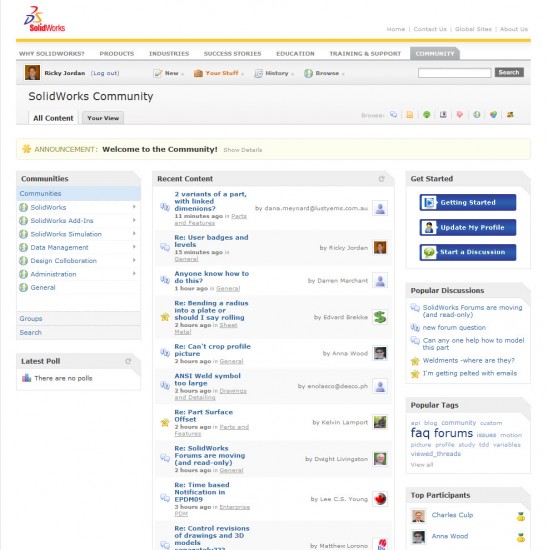 Users of the SolidWorks Forums were treated to a NICE upgrade today with the launch of the revamped forum which has been renamed to "SolidWorks Community".  With the new features of the forum, I feel like the new name fits nicely.  Just about everything in the forum has been enhanced.  I've listed my top enhancements below:
MANY Enhanced posting options which include posting YouTube and Vimeo videos directly in thread replies
Document posting
Additional Profile options
Bookmarks
Ability to add Friends (Ok..yeah…a little "Facebookish" but cool.)
History
A multitude of browsing options
Customizable "Your View" start page
Implementation of Tags
Blogs!  (This one really got Matt excited.)
Better organization of subjects (communities)
Enhanced Search and sorting options
I've probably forgot a few, but these were the my highlights anyway.  The speed of the forum has been a little sticky for some, but most of the browsing I have done tonight has resulted in pages loading at what I consider an acceptable speed.  There were some concerns raised that only subscription service customers could use the new forums (since the login is now tied to the Customer Portal).  SolidWorks has assured that folks off subscription can still participate.  (After perusing a few other blogs tonight it looks like there are a few non-subscription customers having trouble accessing the new site, but I'm sure with the policy statement made by SolidWorks, those issues will be corrected.)
Signatures that many users are accustomed to (appears at the bottom of a thread post) are gone but the information that was normally contained in a signature can be easily found on the user profile page.  The nice thing about this is that it cuts down on some of the "vertical real estate" which results in a little less scrolling on those long winded discussion topics.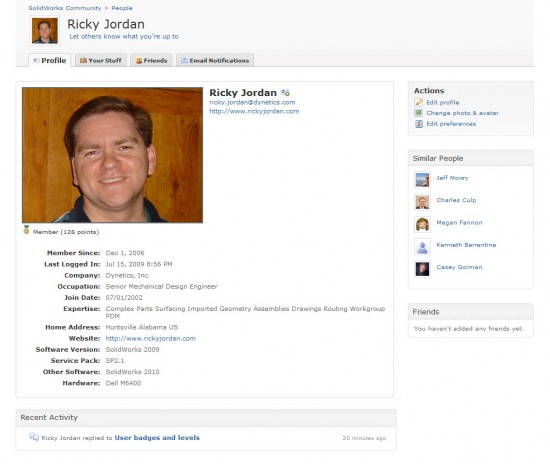 I was pondering doing some videos showing off the new features but it looks like Greg Jankowski has already done it!  In fact, he has created the Getting Started Docs page in the forum that guides you through the enhancements along with some YouTube video posts.
I have taken the liberty to embed the videos below.  If you are a forum user I recommend you check out the Getting Started Docs page as it contains some additional information that is not included in the raw video feeds I am showing below.
(NOTE:  I normally don't embed YouTube videos but thought this was pretty cool.  My apologies to the folks behind the corporate Websense firewall that can't see them)




A BIG thanks to Greg for creating these!

Stay tuned….more to come!