Have you ever wanted to place a logo on a SolidWorks model?  There are of course a number of ways to do this.  If you want the logo to be embossed or cut you probably would first think of the Extrude tool.  But then again what if the surface is curved?  Hmm…well what if you only want the logo to appear like a decal on the model?  One possibility for this would certainly be the Decal function inside of PhotoWorks.  The only problem with that is that you can't view the decal when you share your model via E-Drawings or other 3D web viewing formats.
Everything I have mentioned above can be accomplished with the Wrap feature!  I am often surprised at how this tool can sometimes be forgotten by SolidWorks users.  Here is the low down.  The Wrap tool allows you to "apply" 2D Geometry to a surface much in the way you apply a sticker or decal to your everyday items.  Extrude and Split Line Operations only PROJECT 2D data to surfaces.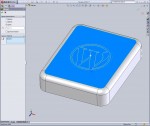 The REALLY cool thing about the wrap tool is that you have the option to use sketches to emboss, cut, or scribe a model face.  The scribe option is probably the most overlooked.  It is very similar to the Split Line tool in that it splits faces without changing the "shape" of the surface or solid face.  If all you are doing is splitting faces, then the Wrap tool has one key advantage over the Split Line tool in that it can handle multiple closed profiles without using the Contour Selection tool.  If you DO want to use the Contour Selection tool, then it supports that also.  (You must preselect using Contour Selection PRIOR to initiating the feature.)  The biggest limitation with this tool is that it only can be used on single planar, cylindrical, or conical faces.  (Here's a prime candidate for an Enhancement Request!).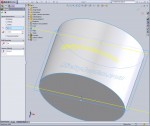 You can also Emboss or Deboss (cut) solids with this tool.  The only disadvantage of it versus the Extrude is the lack of a built in Draft Option.  It does however allow you to set a pull direction which can come in handy on plastic parts.
While it might not be the most well know feature it sure has come in handy for me more than a few times….so check it out if you haven't yet.  It just might end up being the Secret Weapon for YOUR next project!
Stay tuned….more to come!