If you have used various commands to split parts in previous versions of SolidWorks you will especially appreciate the enhancements to the Split Feature in SolidWorks 2009.  When you split a solid body into multiple solid bodies using the split feature, the software requires that you use a Trim Tool to direct how the parts should be cut.  The screen shot below shows using the Top Reference Plane as a cutting tool to split a part into two separate solid bodies.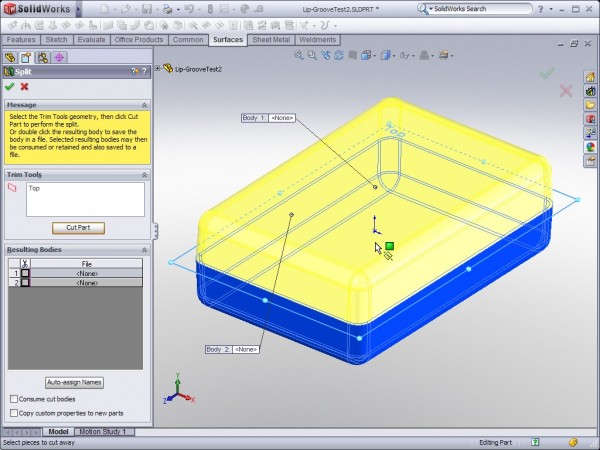 In previous versions problems could sometimes occur if you radically changed the Trim Tool or changed the it in such a way that additional solid bodies resulted from the split.  If those individual solid bodies were saved out to a stock part, references on occasion could get dropped and your stock part was pretty much junk.  SolidWorks 2009 has added the ability to recognize these solid bodies better when changes are made and gives the user the tools to properly reattach a solid body to a stock part in the event that the software gets it wrong.  The result will be stock parts which are MUCH more stable.  In Beta testing I have honestly tried my best to break a stock part and have not succeeded yet.  The below image shows the warning given when you change a trim tool that results in additional bodies created.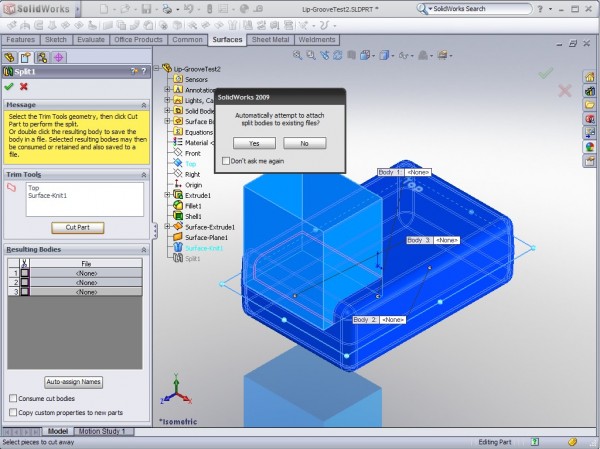 The best way to see the benefits of this enhancement is to see it in action.  Click on the image below to view a video demonstrating the new Split Feature functionality in SolidWorks 2009.
Thanks for tuning in this week.  Check back next week for more highlights from SolidWorks 2009!