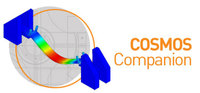 I've got my hands in MANY different areas of SolidWorks on a daily basis.  One of the areas that I have been trying to gain more knowledge in over the past couple of years is COSMOSWorks.  Every so often I use COSMOSWorks to refine designs and validate expected results of parts & assemblies under load.  You could probably classify me as a casual user at best.  Last week I had some design features that needed validation on the project I am currently working on.  COSMOSWorks as usual was up to the task.
For the first time, I was working with studies mainly involving plastic parts.  I was in search of some basic information on how to deal with plastics in FEA and found "the motherload" at the COSMOS Companion website.  I had heard about the COSMOS Companion series of webcasts from the Analyzing Design Blog hosted by Vince Adams in the past but have never taken the time to truly check it out.  Not only did I find useful information pertaining to running analysis on plastic parts, but there were a host of other useful topics displayed as well.  My only problem now is finding the time to view them all!
If you haven't had a chance to check it out, the COSMOS Companion site offers a series of webcasts that provide tips and tricks in COSMOSWorks.  It is not meant to be a replacement of instructor lead COSMOS courses, but rather a supplement that provides detailed information in many specialized areas.  I've only had the chance to watch a few of them so far, but it appears that Vince Adams narrates most if not all of them.  For those of you that don't know Vince, he is the Product Manager of SolidWorks Analysis Products for SolidWorks Corp.  The wealth of information shared and his enthusiasm for the product is VERY much appreciated!  Thanks Vince!  I know how much work it is to put something like this together.  Keep em coming!
If you are a COSMOS user (or even if you are not) check out the COSMOS Companion today.
Stay tuned…..much more to come!  (SolidWorks 2008 is just around the corner!)