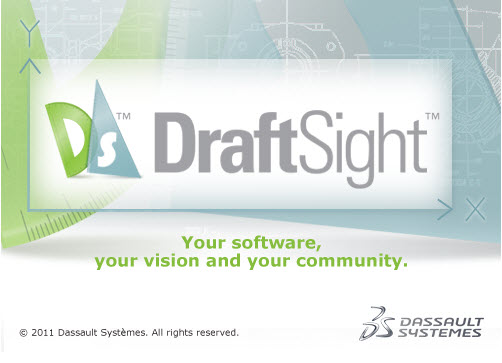 Dassault Systemes today took the "Beta" wraps off DraftSight and have announced it's full release.
With this full release you also get a few enhancements.  Those enhancement include:
API Support (Only included with the paid Premium Pack)
Localization of help files
Command Variables – Enhanced to allow users to set and change system variables from the command line
DraftSight is available for FREE at www.draftsight.com
It is available for both Windows & OSX.  A Linux version is said to be in the works and will be released soon.  (I'll see if I can get a date.)
Graebert GmbH (the company behind the technology DraftSight is based on) announced an upcoming DraftSight App Store at SolidWorks World last month.  The SolidWorks World press release mentioned that 300,000+ users have downloaded DraftSight.  It looks like that number has now grown to 400,000+ according to today's press release.
It appears that the community is responding quickly to this product.  Of course, who could blame them when it offers so much functionality for FREE.
On a personal note – I haven't used DraftSight that much, but when I have it has performed well.  There have been a few comments on previous posts mentioning some issues with Printing.  I did some testing with the general release tonight and was able to print the test files I have.  If you are still having printing issues, make sure you report it to the SWYM support site.
Stay tuned…more to come!