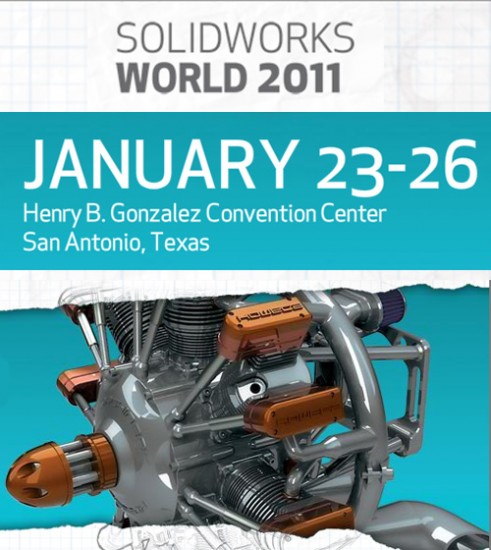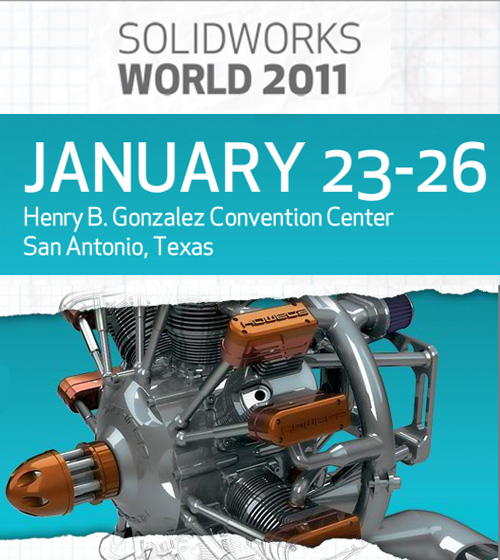 The Tuesday General Session is now over and SolidWorks World is nearing it's halfway point. The focus of today's session was on The SolidWorks User Groups and SolidWorks Customer Stories.
Fielder Hiss led off the with an award for HP who is a platinum sponsor for SolidWorks World. He then introduced Richard Doyle, User Community Manager for SolidWorks to present this year's SWUGN awards.
The User Group of the Year was won by the Chicago SolidWorks User Group. The award was accepted by group leader Denny Bahl. The User Group Leader of the Year award was one by Ed Gebo of the Connecticut SolidWorks User Group. I met Ed for the first time this year and I couldn't think of a better guy to win this award. Congratulations Ed!
The session shifted to a bit of a somber note as we remembered one of the SWUGN founders, Michelle Pillers, who lost her battle with Cancer last year. Phil Sluder and Richard Doyle both talked about the early days of SWUGN (It was called SNUG) and how inspirational and helpful Michelle was in getting SolidWorks User Groups and Forums started. She will be missed.
SWUGN has created a new award and has named it in Michelle's honor. The first recipient of the Michelle Pillers SWUGN Community Award is Wayne Tiffany! Wayne is a SolidWorks World veteran, longtime User Group Leader & SWUGN Regional Rep, and participant in the SolidWorks Forums. Congratulations Wayne!
Next up was SolidWorks Founder and Group Executive Jon Hirschtick. Over the last couple of years Jon has visited SolidWorks customers and brought their stories to SolidWorks World. This year Jon brought the VERY FIRST SolidWorks customer on stage. His name is Bill Townsend. He is the Founder, President & CEO of Barrett Technology, Inc. Bill's company manufactures force feedback robot arms that measure interaction with people and react directly to them. There are many applications for these robots. To make them have the smoothest possible torques, Bill's company developed drives that use cables instead of gears. They also solved many wiring problems by putting the motor and encoder for the drives into a densely packed PCB design about the size of a large coin. This allowed the controls to be mounted onto the drives (because of their size) rather than existing inside a large enclosure. Wiring was reduced from over 100 wires to 4! Very impressive.
The next guest Jon brought out was Rony Abovitz, Founder & Chief Visionary Officer, MAKO Surgical Corp. He is somewhat of a customer of Barrett Technology. He used Bill's Robots to build his first generation robots that assisted surgery.   That was the basis for his current RIO Robotic arm line which is 100% designed and manufactured by MAKO.  Robotic Assisted Surgery is a type of surgery that is an alternative to a full Knee Replacement. MRI based 3D images of the patients knee is developed and brought into SolidWorks via point cloud data. Custom supports for the knee were developed and manufactured. Since the robots know the geometry of the knee, they assist the surgeon with the surgery. There have been over 6,000 surgeries to date!
Samuel Brooks, an actual patient who has had this surgery came onto the stage to share his story. He walked only two hours after his surgery and was playing golf 3 days after!
The next customer brought onstage was Local Motors. This company supports the first Open-Source Designed Car, the Rally Fighter. The design of the car is a collaborative, 3D based process in which users submit designs via SolidWorks models. All models developed as part of the project are available for download both during the design process and once the design is complete. They get proven engines, transmissions, and other components from GM, Ford, Chrysler, and other automotive suppliers an develop the car around it. (They have a process in which they are able to acquire NURBS or Mesh based models of the objects to supper the project.) Many of the designs are competitions with prizes (like seats of SolidWorks) given away to the winner.
Darren Henry, Director of Marketing for SolidWorks was up next to introduce Casey Pieretti and Bill Spracher, hosts of the upcoming Discovery Channel show, Bionic Builders. Casey lost is right leg below the knee but is honestly one of the most active people I've seen. His career choice might surprise you as is Hollywood stuntman. Bill is a design engineer, and together with Casey, has designed a variety of leg attachments to help Casey accomplish a variety of tasks. Casey's quote was: "I don't want to be enabled…I want to be super-enabled." The show will be about building attachments that not just MATCH normal human performance, but EXCEED it in many ways.
This looks like it is going to be another MUST SEE show for me on Discovery Channel. 🙂
Theres only one more General Session left (tomorrow morning) and it is going to be a BIG ONE. This is where they will reveal new products and give us a sneak peek at future products. I'm hopping that most of the General Session tomorrow will be spent on this as this is a VERY BIG DEAL to the users at this event (and following along at home as well).
Stay tuned…more to come!