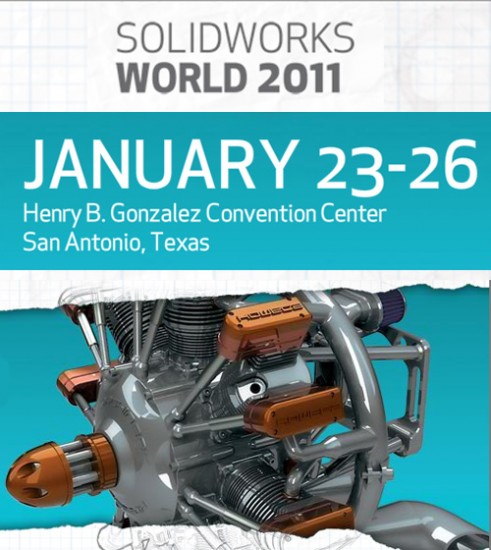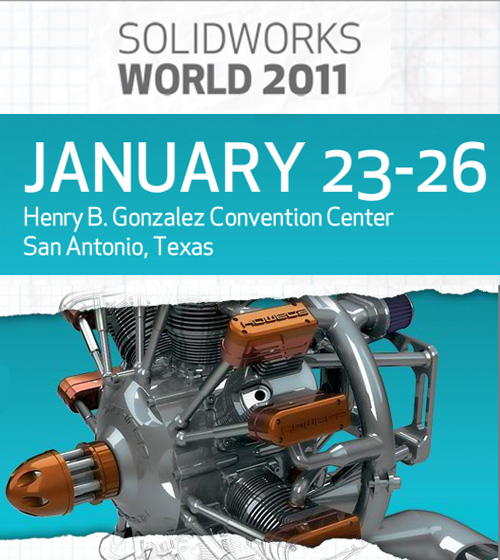 One of the favorite parts for many attendees at SolidWorks World each year is the Sneak Peek preview of the upcoming SolidWorks release.  This year at SolidWorks World 2011, we all got a Sneak Peek of SolidWorks 2012.  Like many years in the past, the new features were revealed in the form of a "skit".  This year it was CAD COPS.  (Themed after the popular Fox show "COPS".  I've got to say this was probably the funniest one yet.  Anyhow, let's get started reviewing the enhancements.  I've provided as much detail as I could as they were presented VERY FAST.
You can pin your most commonly used files inside the Recent Documents dialog. You can also open the folders those files are in from the dialog as well. (All of this is available from the file menu as well.)
You can now change units with the Units Switcher in the right side of the status bar. (Can change on the fly anytime.)
Sheet metal flanges now have the option to be set to "Parallel to base flange" instead of vertex which allows for better control when flange angles change.
You can now reference the outside tangency to ensure flange lengths stay the same and corners close properly
Easier placement of Form Tools. You can also dynamically flip, rotate and utilize configurations of your forms! (Thumbs up for sure on the configurations!)
You can now select faces to ignore when unfolding sheet metal parts.
New Swept Flange feature for Sheet Metal (Wasn't able to get a picture of this one.)
Place one diameter dimension and the sketch automatically locks into diameter dimension mode.
Equation Editor is all new. There is a single dialog box and the software not AUTOMATICALLY calculates the solve order. There are several different views incorporated such as Category, Dimension, & Ordered view. You can access ALL dimensions of a part from a list as well. File properties, functions, & global variables are all available from drop down boxes. You can also utilize the Measure tool from within the Equation Editor to create a reference dimension on the fly which can be used as part of the equation.
Exploded views are now available from the Drawing Pallette. They can also be enabled in the PropertyManager or from the Right Mouse Button Menu. (In current versions, the option to show an Exploded view is buried in the view properties dialog box.)
Bill of Materials can now be created without pre-selecting any views.
Balloons have several enhancements. You can Auto-Balloon sequentially. This will allow you to pick the location of your item 1 balloon and then your balloons follow in sequential item number order around the view (the placement shape is still based on standard Auto-Balloon options). The whole setup appears to be very configurable and will allow you to make adjustments to the balloon sequencing on the fly with all associated Balloons and Bills of Materials dynamically updating.
Balloons now have magnet lines. This is a very popular feature of 3dvia Composer. Balloons can be positioned along a magnet line and you have complete control over the spacing along that line.
View labels are now automatically re-used when views are deleted.
Centermarks can now be automatically inserted at any time for an entire view. (Not just during view creation.) You still have a variety of options for the insertion.
3dvia Composer has enhanced realtime rendering tools which result in a higher quality display image. There is also a Compass tool which helps you navigate and change the appearances of your models.
3dvia Composer also now features BOM highlighting. This allows the user to highlight components in a BOM by hovering over the corresponding components in the model view.
Much like the Magnet Lines mentioned earlier, SolidWork has incorporated some other 3dvia Composer functions. One of which is pressing the Tab key to hide components in an assembly.
SolidWorks 2012 includes a brand new Costing Tool. It analyzes the model (including the features) and gives breakdowns of cost by manufacturing process. It even includes areas where machine setup costs can be input so that quantity adjustments can update the individual component cost. All of this is based on templates which can be modified using an included Template Editor.
Simulation now supports motion sensors and Design Studies support motion simulation. Optimization is also now available in motion simulation.
There is a new Large Design Review mode which allows you to open large assemblies in seconds. (it was described as Quickview on steroids). When opened in this mode the assembly can be navigated as if it were a small assembly. Zooming and panning is also smooth. You can create or reuse Walk throughs and have full interactivity with the FeatureManager Designtree. Hide/Show status can be set from the tree or the graphics area. You can also use the Section View tool while in this mode! Components and sub-assemblies can be opened with full editing capabilities. If you modify the component or sub-assembly and Save it, it will update the Large Assembly already open in Large Design Review mode.
During the SolidWorks World Top Ten Enhancement requests, it was mentioned that the "Freeze Feature" that was shown at SolidWorks World 2010 will be included as part of the SolidWorks 2012 release. (It was in early SolidWorks 2011 alpha builds but was not included in the final SolidWorks 2011 release after some user feedback to questions posted in the SolidWorks Forums. It was held back primarily so that more features and options could be added to it (including support for configurations).
Probably my personal favorite is the Large Design Review mode. If all of the features described make it into the final release, it will be BIG for those with MANY components. Having the Units Switcher in the Status bar is my other favorite. (Sometimes it's the little things that can make a difference.)
That's all for now….stay tuned….I'll post a synopsis of the rest of the Wednesday General Session soon.