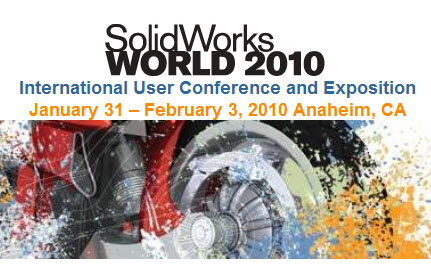 Well, Sunday has now wrapped up and everyone is getting geared up for the first General Session tomorrow morning starting at 8:30am PST.
The rest of my day included a few more Roundtable Sessions followed by the opening of the Partner Pavilion.  To me, this looks like the BIGGEST Partner Pavilion ever!  As usual there are a lot of great products that were designed in SolidWorks  on display and MANY partner products that perform a variety of tasks which include machining, 3D printing, simulation, & reverse engineering.  There were also several hardware products on display which included Dell & HP.
I wrapped up the day by attending the User Group Leader Dinner (cudos to Randy Lennox for putting on a great event) & the SolidWorks Tweetup (thanks to Matthew West of SolidWorks for organizing this event) over at the House of Blues.  Here's the shirt my wonderful wife found on the net that I wore to tonight.  You can't see it, but it actually has my Twitter username on it!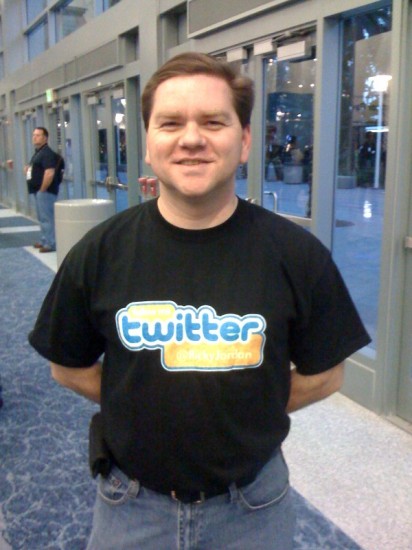 Tomorrow I have several excellent technical sessions on my Calendar which should provide some GREAT information for some of my future work.  Tomorrow afternoon we will have the 10th annual SWUGN International User Summit which is put on by Richard Doyle who is the man behind the SolidWorks User Group Network.  Tomorrow night we have the CSWP event which will feature radio controlled cars from Team Associated.
Below is the Video Summary I put together for Sunday.  I tried to show a little bit of the facilities supporting this year's conference which included the convention center and Hilton Hotel.  There is also some quick video showing the Partner Pavilion.
Stay tuned….much more to come from SolidWorks World 2010.