If you are a NASCAR fan and a CAD user like myself, you might have noticed a little something different at this weekend's race at the California Speedway.  Dassault Systemes was the primary sponsor for A.J. Allmendinger's Richard Petty Motorsports (RPM) entry.  As far as I can tell, this was the first entry by DS into the world of primary sponsorship in the world of NASCAR racing.  RPM has had a long history of using Dassault products tracing back to the days of Evernham Motorsports.  I have even seen a few video seminars detailing how RPM uses DS products in the design of their NASCAR Sprint Cup cars.  Below is a picture of the car taken this past weekend in California.  I got the photo from my favorite NASCAR site – Jayski.com.  If you like to follow NASCAR news – this is THE site to check out.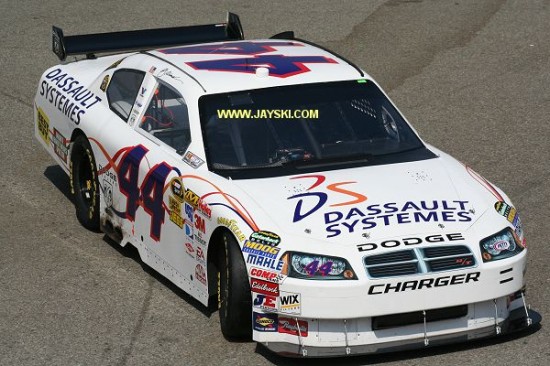 While it was GREAT to see the car on the track…I can't help but wonder why we didn't see the DS brands on the car as well.  It would have been REALLY cool to see SolidWorks, 3Dvia, CATIA, Enovia, & Delmia across the decklid or somewhere else on the car.  Oh well…perhaps this is some food for thought in future sponsorship endeavors.
The subject of SolidWorks and NASCAR is VERY interesting indeed.  I have heard rumors for years that SolidWorks is used actively by many engineers across MANY different NASCAR teams.  Because of the sponsorship dollars at stake…we just don't hear about it much.  The only official record I have seen on this was a 2004 press release detailing the use of COSMOSWorks at Robert Yates Racing.
If you use SolidWorks to design race cars of any type, leave me a comment!  I'd love to hear from you!
Stay tuned…more to come!