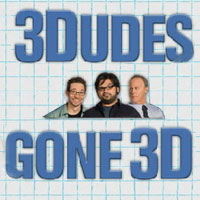 Ok…without elaborating too much, it has been a stressful week for me so far.  Lots of things going on which IS  good thing.  As I was reading my Twitter feed tonight, I came across a tweet from SolidWorks founder and former CEO Jon Hirschtick talking about a new marketing video series that was just released by SolidWorks.  Maybe it's just my twisted sense of humor, but I laughed like crazy watching the three released episodes of 3 Dudes Gone 3D.
The series puts 3 guys working together in an overflow trailer while their offices are under construction.  Stephen, Bob, and Kish talk about developing refrigeration products with SolidWorks amongst other things in this REALLY funny series of videos.  Don't take my word for it….check it out for yourself!
Stephen is the young Mechanical Engineer.  Bob is the "old timer" of the group and is VP of Product Developement.  Kish is the eccentric Senior Designer in the group and I would say is the most entertaining of the three.
My good buddy Josh over at SolidSmack posted about this today and has some interesting background information on the series.
My favorite Kish quote so far is:  "You really are philistines aren't you?  And I……I am the Davinci of portable refrigeration.  Hey Bob,  You worked with Davinci didn't you?"
Priceless.  I highly recommeded the site folks…so check it out when you can!
You can also check out previews of upcoming episodes HERE.
Stay tuned…more to come!