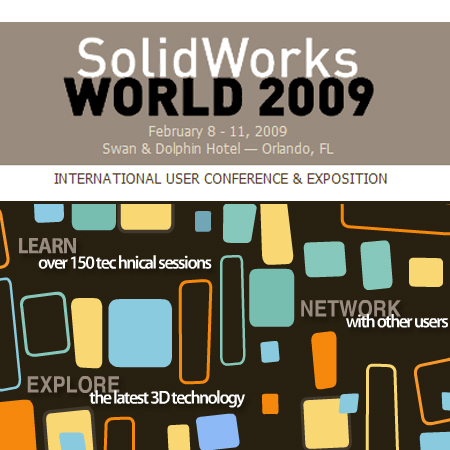 At the end of the day Monday the 2009 SWUGN International User Summit was held.  It is the annual User Group Meeting held at SolidWorks World that is open to SolidWorks User Group Leaders, Members, and any other conference attendee who wants to attend.  This year's Summit had a special ending this year.  About six months ago I got an e-mail from Devon Sowell who had the idea of honoring SolidWorks User Community Manager Richard Doyle with a special award.  We all immediately jumped on board with the idea and thanks to a few folks at SolidWorks Corp. we got a plan set in motion to present Richard with the award at the end of the meeting.  We were even able to give SolidWorks CEO Jeff Ray in on it!  During the meeting SWUGN rep Phil Sluder surprised Richard with a crown for him to wear during the presentation.  All of the SWUGN Committee members then donned Jester hats!  Richard knew something was going on prior to the meeting and I have a feeling that he thought that was it….but no…it was only the beginning.  Here's a picture of Richard giving the presentation donning his crown and you can see a few of the Jester hats as well.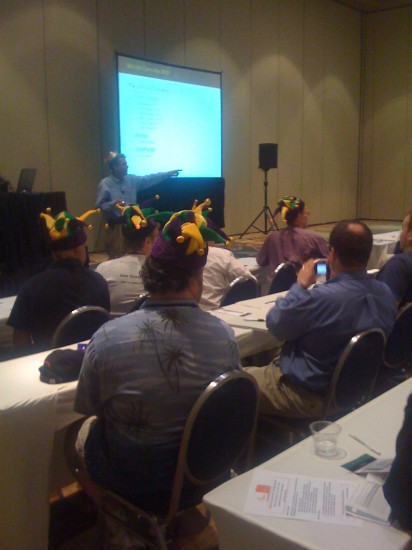 After Richard finished up his presentation SolidWorks CEO Jeff Ray came in and surprised Richard again with his speech honoring Richard's MANY accomplishments as the SolidWorks User Community Manager.  After Jeff was done, Devon took the microphone and told the crowd a little bit about the award we were to present to him.  Devon then asked me to say a few words about Richard before presenting him with the award.  Richard is the man that made sure I knew what I needed to do when I revived the North Alabama SolidWorks Users Group 4 years ago.  My story was merely an echo of the things Richard has done to help every other User Group worldwide getting started.  Richard also had a hand in convincing me to start this site!  About 2.5 years ago gave me a call and asked me what I thought about Blogging.  I'll fully admit that at that point…I wasn't all that familiar with Blogs at all.  After he explained the basics to me I told him to count me in as I would love to "give it a shot".  At that point I had no idea that it would take me where I am today with this site.  So yes…you all have Richard to thank if you are reading this post.  (Sometimes I wonder if Richard thinks he might have created a monster!)  Before I wrapped it up I honored Richard with his own special Tweet on Twitter that was sent as we were presenting him the award.
Below is the copy of the award presented to Richard along with a gift certificate.  SolidWorks User Groups would be NO WHERE NEAR as successfull as they are today without Richard's hard work, dedication, and undying enthusiasm.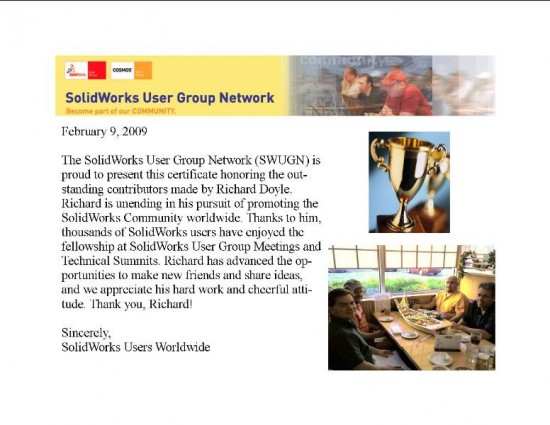 Stay tuned….much more to come….Live from SolidWorks World 2009!