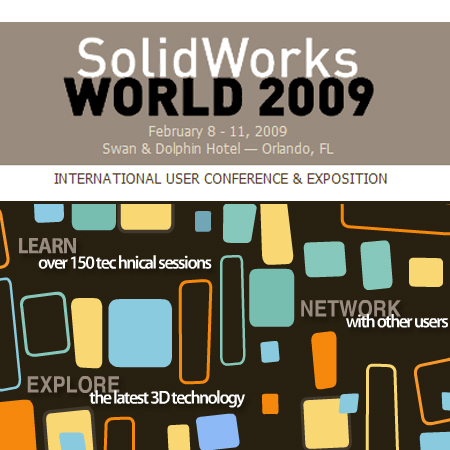 Well, due to an early morning start on Saturday with not much sleep from the previous night, my Saturday report on SolidWorks World is coming on Sunday!  All my Flights yesterday pretty much were about as perfect as you can ask.  I ended up arriving at the Orlando airport just after 11:30AM after a first leg flight from Huntsville to Atlanta.  Thanks to some conversations on Twitter, I ended up catching a ride to the hotel with fellow User Group Leader Randall Bock.  Thanks Randall!  Randall and I had never met in person only through Twitter.  This is one of the really cool things about social media.  There are several folks here that I have never met in person, but thanks to applications like Twitter, Facebook, & LinkedIn, when you do meet that person(s) you pickup in many cases like you've know them for years.
After a short ride to Disney's Swan & Dolphin hotel, I had about an hour to check in, unpack, & grab some lunch before heading off to see some "super secret" stuff that unfortunately I cannot talk about here.  (This would explain my dry spell on Twitter yesterday from 2:00pm – 7:00pm.  🙂
After my covert meeting were concluded we all assembled in the hotel bar area for the TweetUp.  This was just a get together for Bloggers, Twitterers, or any other social media types.  It wasn't closed to just those folks…but that's how the whole thing started anyway.  I had an absolute blast!  My wonderfully talented wife made some breakfast cookies and fudge since she has gotten to know many of my SolidWorks buddies through Twitter.  EVERYONE loved the treats and I think Southern Plate might just have some more viewers after last night.  🙂
It was great to meet some new folks light night as well as catch up with some old friends.  If I tried to list them all here, I'm going to leave someone out.  I'm really looking forward to a GREAT conference.
Stay tuned….more to come!