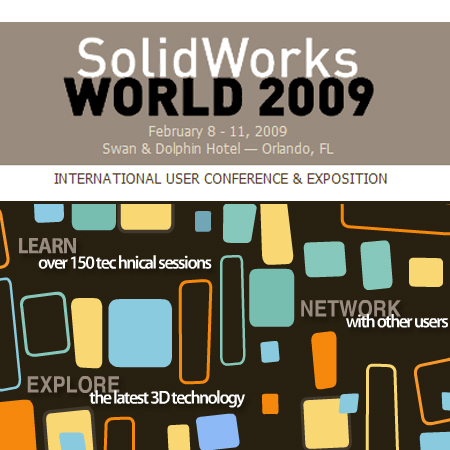 SolidWorks World 2009 "Officially" got off to an AWESOME start this morning with the first of three General Sessions.  Today's General Session featured the normal welcoming ceremonies plus an on stage interview with Sir Richard Branson.  If are following me on Twitter, you may have already seen some of this, but at this point I have the time (and characters) to elaborate much more on the topics.  There are some additional photos I posted via Twitter…so make sure you check it out as well.
The session started out with a REALLY cool animation featuring a metal ball rolling down what looked to be the MegaBrands style coaster tracks in what was one of the absolute COOLEST animations I have ever seen!  SolidWorks CEO Jeff Ray was introduced and revealed some interesting stats about SolidWorks World this year.  There are 4,313 people in attendance.  (An incredible number for an economy that isn't in the greatest shape.)  The Customer Portal got 1.2 million hits this past year.  The Core focus areas for the next release of SolidWorks are:  1.  Installations, 2.  Upgrades, & 3.  Managing Design Data.  (All three of these look good to me!!)
Interestingly enough, SolidWorks showed a Report Card in which they gave themselves ratings in three categories.  Customer Service got a B-, Performance a C+, & User Experience a B.  I think the point behind this was that they are happy with their progress in these areas, but are striving to do much much more on each topic in the future.
Jeff also mentioned some interesting stories about some of the folks and how they have made their way down to SolidWorks World this year.  One of them was about Rodney Hall, a fellow SolidWorks User Group Leader, Twitterer, and friend, who was laid off only two weeks ago.  Rodney never let this deter him and he made his way down here to SolidWorks World, despite his current job status!  Way to go Rodney!   (I know you will find work VERY soon buddy!)
Jeff Ray also mentioned some other interesting stories.  Regenerative Technologies (RTI) is studying was of maximizing the percentage of organs and tissues used from organ donations.  Through their efforts, one person's donated organs have saved as many as 108 people!  Astounding!  They have figured out a way to cleanse the organ tissue without breaking down the cells.  Truly amazing technology!
Trojan UV is using SolidWorks to design machines that produce safe drinking water through the use of the bombardment of the water by Ultraviolet Lights!  56 units are being installed outside of New York City which will provide 2.2 billion gallons of safe drinking water!
Design that Matters (DTM) is using salvaged car parts to build Baby incubators for third world countries.  4 million babies a year as a result of improper care as an infant.  (The headlights are used to heat the incubator…really innovative!)  Roughly ½ of that total could be saved with proper baby incubation equipment.
Before Sir Richard Branson was introduced, a short video was played that displays many of the different industries that Virgin is a part of.  I was absolutely stunned at some of the industries they are in that you don't hear much about over here in the states.  There are way too many to list…so check out their website at some point for more information on their 37 year history.
Sir Richard Branson was introduced immediately after the video and was "interviewed" so to speak by SolidWorks CEO Jeff Ray.  One of the questions dealt with design and Sir Richard's response was SOOO on point.  Sir Richard stressed the importance of talking to the consumer AT LENGTH BEFORE starting the design process.  You have to understand the consumer's needs fully before doing the design.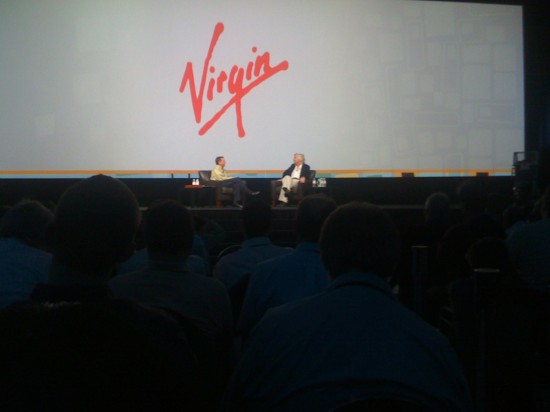 He spoke of his world record attempts in boats and hot air balloons as well as his early days starting the Student Magazine.  He had a really funny story about how he got into the airline industry.  He called Boeing up and told him who he was and asked them how he could get a second hand 747 to use as a test bed for some of his ideas.  Once Boeing figured out who he was he was able to secure a plane pretty quickly.  All of Sir Richard and his team's ideas of what would make the ultimate airplane flight was put into place and the rest as they say…is history.
Sir Richard also told a story about how one of their new luxury airline seat designs were tipped off to one of their competitions.  Once they saw their competitor's seat design, they immediately scrapped their entire line.  (Hundreds of millions of dollars) and redesigned the seat to be the BEST product out there…period.  He also discussed many of his efforts to make the earth a more "Green" place.  He once flew one of his Virgin Airline jets successfully on biofuel!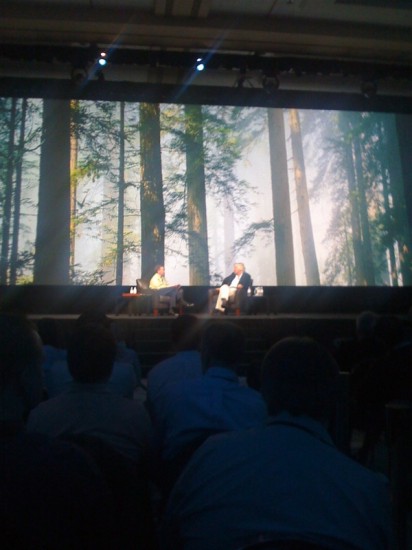 The Virgin Galactic name was registered back in the 1990's.  Sir Richard was ALREADY  thinking about space flight then and began meeting with scientists and engineers in hopes of pioneering the effort.  Of course that led him to Burt Rutan which resulted in the X prize award winning Spaceship One.  Sir Richard says that Spaceship Two should have it's first test flight before the end of the year.  The first flights will be suborbital which is much like what was done with Spaceship One, but orbital flights are in the future as well!
Sir Richard is a bit of a "jokester".  He once put out a fake announcement of a partnership service with Google and Virgin called Virgile.  The joke was that they were looking for volunteers for a one way trip to  Mars.  They actually had takers on it before the cat was let out of the bag that it as an April fools joke.
An absolutely fabulous interview and session!  Rumor  has it that the video is going to be posted soon.  I'll put it up here when it is!
Stay tuned…much more to come….LIVE From SolidWorks World 2009!!!