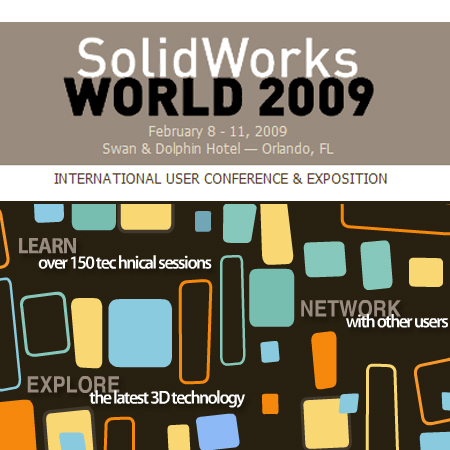 Only 24 days left until the start of SolidWorks World 2009 in sunny Orlando, Florida.  I will be attending this year's conference as a member of the Press and will be presenting as well.  (More on that later).  Registration is still open so don't give up hope yet if you haven't planned your trip.  With an abundance of hotels in the area you can plan a trip on a budget if you don't mind a little commute to the convention center.  This year the conference will be held at the Swan & Dolphin Resort located in close proximity to Epcot & Disney Studios.
I will be providing updates throughout the conference in the "formal" sense with posts to this site and the "less formal" sense on Twitter!  If you see me at the event, PLEASE stop me and introduce yourself.  One of the best things about the conference is meeting and networking with new people and I welcome the chance to get to spend some time with some of my readers.  I will be hanging around the Partner Pavilion near the SWUGN booth at the Welcome Reception and will be in many other places I'm sure during the conference.  Don't be shy!
My presentation will be up first thing Monday morning from 10:30am – 12:00pm.  This year I am taking a bit of a different subject matter to task.  The presentation title is "Custom PCB Design with SolidWorks".  It covers both process reccomendations and software features inside of SolidWorks that can be used in the design of Custom Printed Circuit Boards.  It does NOT include actual PCB Layout with SolidWorks.  SolidWorks is not that type of CAD tool.  It does however demonstrate how to establish board outlines, prepare for ECAD system layout, and includes several approaches users can take in processing the ECAD layout data to check the board design and produce 3D models of the board and ALL it's components.
I hope to see many of you at the conference this year!  Stay tuned…more to come!