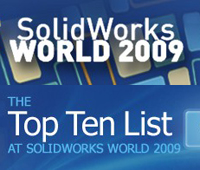 SolidWorks is going to be doing something different for the well known "Top Ten SolidWorks Enhancements" that are revealed to attendees of SolidWorks World every year.  In the past, voting was limited to attendees of the conference only and the topics were pre-selected.  For SolidWorks World 2009, they are opening up voting to ALL customers currently on maintenance through a new SITE where you can submit, vote, and comment on ANY Enhancement Request!  That's right, you will be able to see EVERYONE'S Enhancement Requests!  Not only that….you can vote and leave comments on each of them!  VERY COOL!  You must have a Customer Portal login to access the site.
Once you go past the front page and enter the site which is labeled at the top as "SolidWorks Brainstorm" (A very appropriate title if you ask me.)  you immediately see the most popular requests (based on voting.)  There are several categories available.  If you don't see one that fits what you are looking for, just use the "General" category.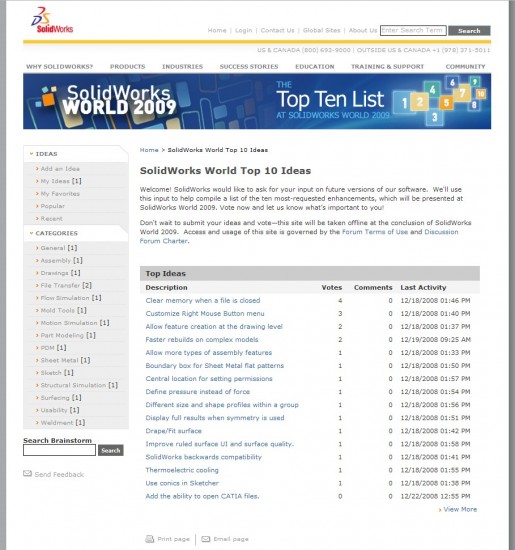 Once you enter a Category you'll see the top enhancements for that category.  At this point you can pick which enhancements in the list you want to vote for.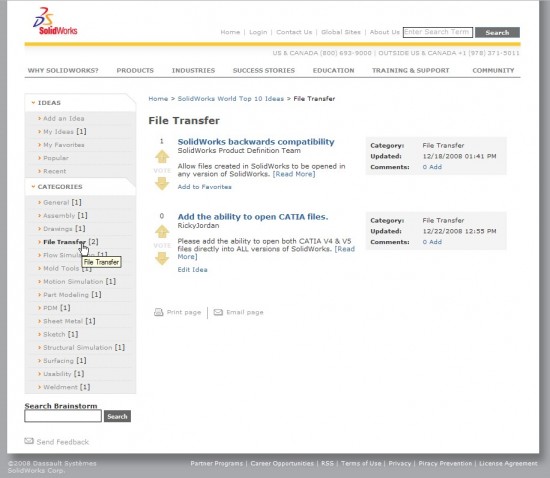 When you click on an individual enhancement request, you can leave comments!  (If you read my second Blog article posted back in 2006, you won't be surprised what my first Enhancement Request on this site is for.)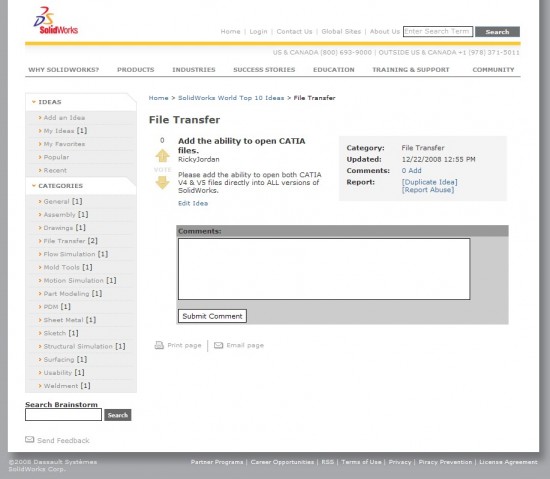 You can also access the Ideas section for a list of your ideas, Favorite, Popular, & Recently added items.
Right Now this site is only being used for the Top Ten List at SolidWorks World.  Whether or not it will be integrated into the current Enhancement Request system remains to be seen.
So STEP UP SolidWorks users!  Submit, Vote, & Comment today!  Let your voice be heard!
Stay tuned….more to come!