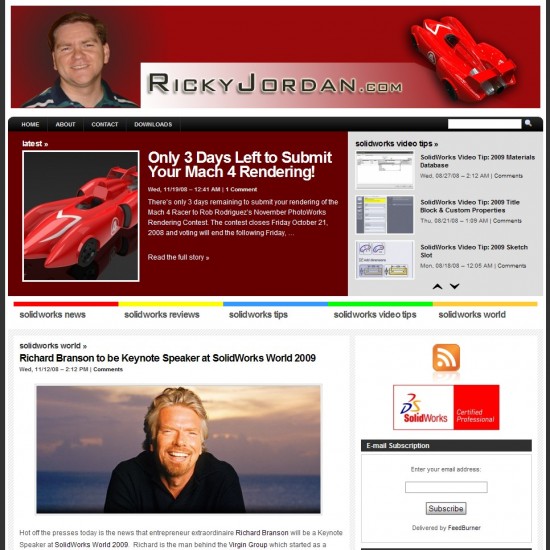 Today marks the next phase of my site changeover to WordPress which started back at the beginning of August.  I'm proud to present to you a brand new site layout which I think takes this site beyond being "just a Blog".  I have upgraded the site to a WordPress Premium theme in an effort to make it easier to explore the content of the site without having to depend solely on searches and category lists.
Browsing the site is pretty self explanatory, but there are a few new features I would like to point out specifically.  On the Home page you will always find the "Latest" post at the top.  This feature is also reflected on single post pages or category views.  Next to the Latest post area is perhaps my favorite new feature of the site which is a scrolling carousel of ALL of the articles in this site containing video content!  It is a simple category sort, so If you would rather see the video posts in a larger list, you can simply click on the "SolidWorks Video Tip" link just above the carousel or select that category from the category pull down in the sidebar.
Just below the Header area are the top five categories of the site (Excluding SolidWorks Video Tips since it is featured above).  The rest of the categories pages can be accessed from the Category pull down in the sidebar.  Just below the top five categories is the "Recent Posts" area.  There you will find EVERY post from newest to oldest.  There is also a REALLY handy page navigation bar at the bottom of the "Recent Posts" area.
I have recently taken on webmaster duties for Southern Plate, my wife's recipe tutorial site.  Just after we got her site migrated from Blogger to WordPress, we started looking at some premium themes for both her site and mine.  She found this theme and we purchased it with the thought that it could serve both of our sites well.  Her site was the first to be implemented since she gets MUCH more traffic than me.  After a VERY SMOOTH implementation of the theme to her site last week, it was a no brainer to move forward and get this site migrated ASAP.
I'd like to hear YOUR thoughts on the new site design so drop me a Comment and let me know what you think.  This site is ALWAYS a work in progress and if you think there are additional things I can to do to improve it, let me know.
Stay tuned….more to come!