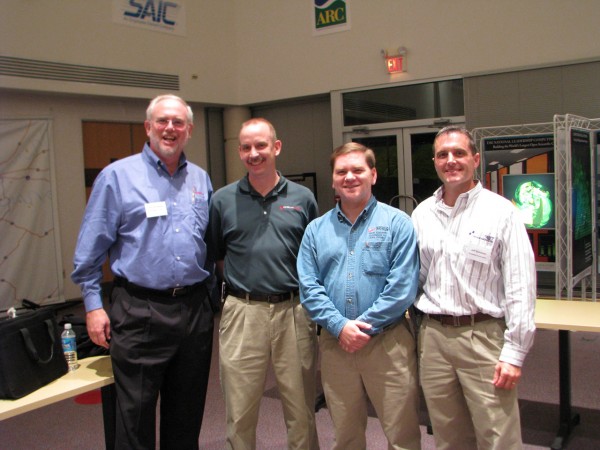 Tonight I had the privilege of attending the Knoxville SolidWorks User Group meeting which featured SolidWorks founder Jon Hirschtick.  I've been hearing LOTS of great things about this group and their new leader, Jeff Bohanan.  I was not in the least disappointed.  It was evident that Jeff had meticulously planned EVERYTHING in detail for the event which resulted in a smoothly run meeting.  Jeff even went to the trouble to setup the serving table with a spot for each type of pizza and the spot was labeled!  The crowd was well fed with 31 pizzas from Papa John's plus a couple of boxes of wings!
The meeting was held at the Technology 2020 building which is a joint venture between many companies in the area to help promote start up businesses.  The presentation room was large enough to hold quite a few folks.  All total 75 people were in attendance there tonight!
Jeff kicked off the meeting with some prize giveaways from SolidWorks.  After that he reminded those in attendance that SolidWorks World will be coming up in February 2009 and that registration is now open.
Jeff then handed over the meeting to SolidWorks founder Jon Hirschtick.  Jon's presentation outlined the History and Future of CAD.  The origins of today's CAD systems had roots in the 1960s with Dr. Ivan Sutherland's PhD thesis on "Sketchpad" which used a light pen to draw lines on a computer monitor.   The early 1980s saw the first breakthroughs in variational geometry (which led to parameter driven 3D models) by Dr. David Gossard in MIT's CADlab.  Dr. Gossard was a mentor to Jon who was a student at MIT during this time.  It is amazing how much of Dr. Gossard's visions of 3D modeling became reality as the 1980s progressed.
Jon also discussed his thoughts on the Future of CAD.  His thoughts included the advancement of more Hosted Applications.  He did say that he thinks that SolidWorks running as a hosted app is still pretty far down the road.  He did feel that in the near future you could see more 2D applications like DWGeditor running as hosted applications.  (An example of this is BluePrint Now which is available at SolidWorks Labs.) Open Source was also a major topic discussed.  Jon pointed out that Open Source Applications are gaining in popularity and use these days and that there could be inroads into the CAD Industry in the future.
At the end of the meeting Jon fielded questions from the users in attendance.  By far the most popular question brought up by multiple users was if backward compatibility would ever be built into SolidWorks.  Jon said that he has heard this request quite a bit lately and that he definitely can see the benefits of it from the user's perspective.  Jon promised to pass the feedback along to the folks at SolidWorks.  If you are a user of SolidWorks and would like to see this functionality I HIGHLY encourage you to visit the Customer Portal and fill out an enhancement request.
I was happy to see fellow User Group leader Rodney Hall of the Catawba Valley SolidWorks User Group at the meeting tonight.  I've seen Rodney several times at SolidWorks World but we never have had much time to talk.  It was nice to have some time to get to know Rodney a little better and hear about the exciting things he is doing with his User Group.  Like me, Rodney took personal time off work and drove 4 hours to attend the meeting tonight.  Rodney had a much better camera than I did and will be e-mailing me some pictures from tonight.  I'll make sure to post them later so you can check them out.
I'd like to thank Jeff Bohanan and the entire Knoxville Group for a great meeting tonight.  One of my favorite things to do is visit other SolidWorks User Groups and I hope to do it more in the future.
That's all for now….stay tuned….more to come!
UPDATE 1: 10-29-08
I have corrected the attendance count and posted a picture sent to me by Rodney Hall.
UPDATE 2: 10-29-08
I was so wrapped up in the presentation last night, I didn't take notes very well and did leave out a few other things that Jon discussed in regards to the Future of CAD.  Thanks to Rodney Hall, who sent me some PICTURES of the event (along with some snapshots of the slides), I remembered a few other points that Jon made that I feel are very noteworthy and should be added to the notes from the meeting.
In addition to the Future Trends of Hosted Applications & Open Source which were mentioned above, Jon discussed three other trends which he thinks will impact CAD in the future.  Those items were, Video Games, Touch Interfaces, & 3D Printing.
Jon made a very good point with Video Games.  In the past if you wanted to see the "best" high end graphics, you would look to models and renderings produced on CAD workstations.  Today if you want to see the best graphics, you look to video games.  If you own an XBox 360 or PS3 you know what I'm talking about.  If you don't, just take a look at some of the screen shots on the web of the games being released for these consoles.  The images are beyond amazing.  Video games have already had a direct effect on SolidWorks.  The enhancements to RealView and addition of the PhysX engine to SolidWorks 2008.  Another feature that had direct roots from Video Games is the Ambient Occlusion option.  Since the DISPLAY of 3D models in SolidWorks in the graphics area is actually a tessellated mesh, one could wonder if more technology could be leveraged from the gaming industry to enhance the performance of 3D model display in the future.
As Neil pointed out in his comments to this post earlier today, Direct3D rules the gaming world and there are more and more users that are calling for this graphics technology to be implemented in SolidWorks vs. the current OpenGL setup.  One of the key advantages of Direct3D is that you can successfully use less expense "gaming video cards" in place of the high priced workstation grade graphics cards.  Other CAD companies are already making the switch.  Perhaps the influence of Video Games will lead SolidWorks down this path as well.  Time will tell.
Jon also talked about Touch Interfaces.  This is an area that is of keen interest to me.  If you ever have played with an iPhone, you can get a taste of what perhaps we will see in the future.  There are many companies working on this technology and I can see many applications that could be implemented in 3D CAD software.
The last Trend that Jon discussed was 3D Printing.  Jon believes that we will one day treat 3D prints in a similar manner to paper coming off a printer.  If you are not satisfied with it, throw it away and print another one.  In the present day you hopefully wouldn't dream of throwing away the 3D print you just paid $1,000 for, so it will definitely take some time to get to that point.  With the advances in the 3D printing industry over the last several years, perhaps we will get to that point sooner than most think.