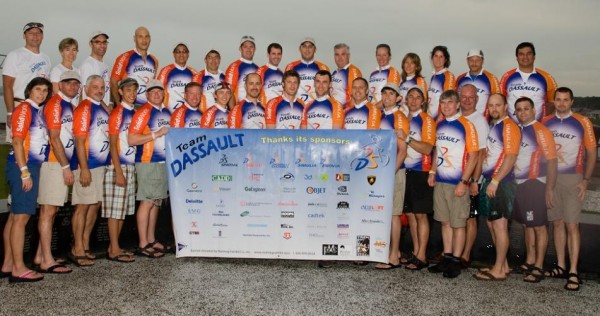 Being involved in the SolidWorks Community connects you with many great people doing great things.  A few years back in a former life as a SolidWorks AE I met Matt Rece who was at that time working at SolidWorks in Technical Support.  I've kept in contact with Matt through the years and get to work with him from time to time as he is now the SolidWorks Territory Technical Manager for my area.
Matt along with several SolidWorks and Dassault Simula employees recently participated in the Pan Massachusetts Challenge which is a charity bike ride across Massachusetts to benefit cancer research.  The ride is a 192 mile trek from Sturbridge, MA to Province Town, MA out on the tip of Cape Cod.  Each rider on the 2 day 192 mile route must commit to raising at least $4000 dollars by Oct. 1st.  Here's a picture of Matt at the PMC.  (He is the tall guy on the left.)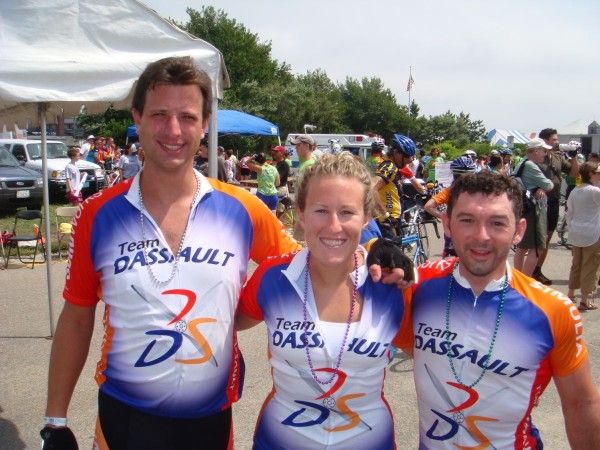 We've all lost loved ones or acquaintances to cancer at some point in our lives so if you would like to make a donation for Matt's ride, click on the link below to make an eDonation.
http://www.pmc.org/mypmc/profiles.asp?Section=story&eGiftID=MR0121
It's a great ride for a great cause.