The North Alabama SolidWorks Users Group (NASWUG) had six representatives at SolidWorks World 2007. I've know some of these guys for quite a few years and this was the first time that I have had a chance to really hang out with them. We all got together usually at least once every day and hung out well into the night a couple of evenings. It was an absolute BLAST! You won't find a better group of guys anywhere and I feel pretty lucky that they are part of our SolidWorks User Group.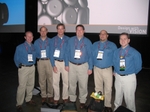 We did something a little different this year. All of us chipped in and bought NASWUG branded shirts. We had a group picture made just after the Monday General Session. From left to right we have Gary Hall (NASWUG VP), Bobby Weber, & James Prevost (all with Digital Fusion). Next is Richard Hall (Westwind Technologies Inc.), Brian McElyea (Miltec Missles & Space) and yours truly, Ricky Jordan (Dynetics).
We had the shirts in time to show them off at our User Group meeting last week and I've already got a few pre-orders for the next batch!