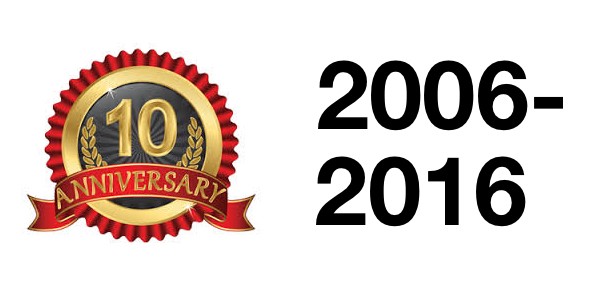 I realized a few days ago that my aloofness in blogging has made me speed right past this site's 10th anniversary!  Wow – Things have changed a bit since June 8, 2006.  So it got me thinking.  Why did I start blogging? ….and also…..Why am I starting to blog again?
Ok – so the answer to the first question is easy.  I started blogging back in 2006 because there just seemed to be a shortage at the time of tutorials and videos on how to use SOLIDWORKS.  When I first started learning SOLIDWORKS, I soaked up every little tid bit of information I could glean off the net on how to use the product.  Most of that information was gleaned off usenet forums.  When I went to SOLIDWORKS World for the first time, it was like information overload!  SOOO much useful content.  But if you didn't go, you really missed out on a great resource.  You see back then, YouTube was still very new and the CAD companies were not putting out much in the way of tips, tricks, videos, or anything else that would help the newer and sometimes even experienced users learn new things about SOLIDWORKS.  So off I went.  I tried to constantly think about useful things to post.  I wrote about some major topics and also some minor tricks.  I tried to cover some of the newer features as they came out along with some of the oldies but goodies.  I started doing videos which were very cool, but were also time consuming to make.  Fast forward several years and the posts started getting less and less.  There are many reasons…Life was busy.  Kids are growing up and had many more activities.  More responsibility at work.  Those were all contributing factors.  Not to mention…writing on this blog was definitely not a job.  The amount of online content for SOLIDWORKS via videos articles, new blogs, online training, & enhanced media channels were really coming into place.  SOLIDWORKS developed multiple blogs and many of the resellers started blogs with excellent content.  As I look back on it now, I have a pretty simple statement that probably sums it up best.  Plenty of information had finally gotten out there….and I just didn't really have much to say.
So the answer to the second question is a bit harder to provide.  Rather than list off a bunch of different thoughts that are running through my head that have lead me to this post, I'll just try to simply it a bit.  I finally have something to say again.  And with this go round, its gonna have to be FUN if I'm going to keep doing it.  The people in the CAD Community are what makes this fun and interacting with them whether its with our SOLIDWORKS User Group or on this site or on the online forums is one of the most enjoyable parts of it all!  So there ya have it.  Pure blogging for enjoyment.  Simple, right?
So with this renewed rush of enthusiasm, the site is going to spread its wings a bit.  You'll see other products discussed here rather than JUST SOLIDWORKS content.  Don't worry there will still be a lot of SOLIDWORKS stuff.  (When you have used a package for 18 years…theres still a lot rattling around in my brain.)  There are some other players that have been out there for a while and some that are coming into the industry that have interesting points for discussion.
So since this is fun….I'm not really going to agonize over the perfection of posts or see that every little detail is 100% perfect before something is posted.  I'm just going to sit back and write.  (Call this a preemptive warning – Hey – sorry if I miss a typo here and there….this is supposed to be FUN, so I'm just gonna roll with it.)
Till next time…..