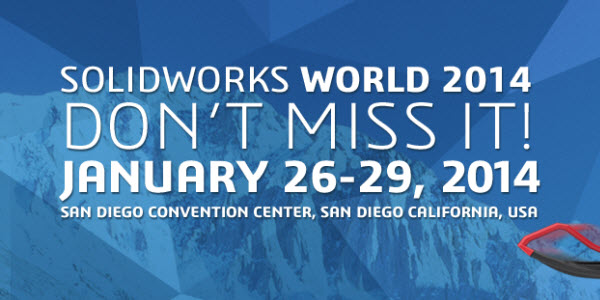 Its January which means….its time for SolidWorks World again.  This time though….I won't be providing live updates from San Diego because I won't be there.  After a seven year streak starting with SolidWorks World 2007 in New Orleans, I will be at home this year.  The reason is the same as the last time I missed SolidWorks World.  Too many happenings in the family and work life.  So it will be interesting to see how the view is from this side of the street.  Catching updates via Twitter and Blogs (OK…mostly Twitter) will be an interesting perspective and one I'm looking forward to experiencing.  (Just gotta make it through tomorrow and the SolidWorks World withdrawl symptoms should subside.)  For those of you in San Diego and are tweeting your experiences – Thank you!  It's been a lot of fun following all the happenings today!
The title of this post has two meanings in that it has been just over a year since my last post.  Life and work have been very busy this past year and simply put, I didn't really have much to say or report.  Rather than produce "meaningless"gap fillers, I chose to let the site stand on its existing content and wait and see what 2014 beholds.
Looking out on the horizon of 2014, I do believe things will change. Perhaps there will be something new to talk about (or perhaps not).  Only time will tell on that one.  It certainly will be an interesting year with many new wrinkles developing in the SolidWorks user community.  I'm ready to roll, so let's buckle up and see where the next stop is.